Al Jazeera Journalist Zeina Awad to Speak at UM-Flint on "Arab Spring & the Role of Social Media"
The Arab American Heritage Council (AAHC), Mott Community College (MCC), and the University of Michigan-Flint will present Zeina Awad, Al Jazeera English news correspondent. Awad (on Twitter @Zeina_Awad) will discuss the ongoing political developments in the Middle East and the role of social media in two public presentations entitled "Arab Spring & the Role of Social Media." Both presentations are free and open to the public.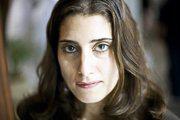 She will speak at both MCC and UM-Flint. Her appearance at UM-Flint is being sponsored by the Department of Political Science and the Global Studies program.
"The Arab Spring has been the most important transformation in the Middle East in several decades. Ms. Awad's presentations will allow students, faculty, staff, and the wider community to engage in a public discussion of these important changes," said Derwin Munroe, Political Science department Chair at UM-Flint.
The Arab American Heritage Council, through the joint collaboration with Mott Community College and the University of Michigan– Flint, is thrilled to bring this opportunity to our community, said Mona Sahouri, executive director of the AAHC. "We are the only Arab America Organization in the Greater Flint area and we have the duty to bring such educational opportunities to our community," Sahouri said.  "There is a definite need in our community to understand the historic and revolutionary change in the Middle East as it is revolving, and we are happy to be able to bring such a dynamic speaker that will be able to share with us her experience about this change on first hand basis.
First Public Presentation
Place: UM- Flint; Room 161 French Hall
Date: Wednesday, October 19th
Time: 5 p.m.-7 p.m.
Second Public Presentation
Place: Mott Community College, Mott Memorial Bldg. Auditorium
Date: Thursday, October 20th
Time: 1 p.m.- 3 p.m.
Before joining the Fault Lines team, Awad was based in the Middle East and traveled throughout the region covering stories ranging from the Gaza war to Lebanon's violent unrest.
For more information, call the AAHC's office at (810) 235-2722.
Contact University Communications & Marketing with comments, questions, or story ideas.