Scholar from China Gets Closer Look at Nursing in America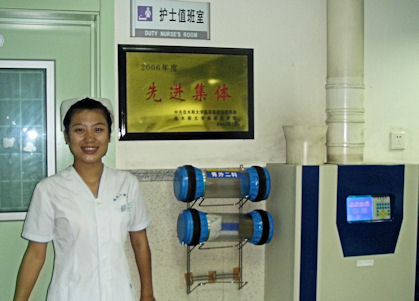 This past August, the University of Michigan-Flint Department of Nursing formed a new partnership with a university in Taiwan that will involve an exchange of both graduate and undergraduate students.  While those students are expected next summer, the department is currently hosting Chunping Huang, a master's student in nursing from Tianjin University of Traditional Chinese Medicine, Tianjin, China. She will spend the next six months further developing her research program in nursing management and patient safety.
UM-Flint Professor Huey-Ming Tzeng, Ph.D., RN, FAAN, who is well known for her research in nursing administration and patient safety with a focus on falls in hospital settings, will be her faculty mentor. Huang will work closely with Professor Tzeng and has joined her research team.
"Hosting international visiting scholars is in line with our department's mission to form global partnerships that can influence our commitment to health and well-being for all people," said Margret Andrews, director of the Department of Nursing.
Huang has already published two research articles (in press) in the area of clinical leadership and management: 1) "Correlation between Kanter's structured empowerment and nurses' perceived self-efficacy" to be published in the journal of Chinese Nursing Management; and 2) "Reliability and validity of the Chinese version of Conditions of Work Effectiveness Questionnaire" to be published in the Chinese Journal of Nursing.
Huang has been actively participating in campus life, and will be an observer in some of the undergraduate nursing courses.
"I am eager to learn more about the United States health systems, and the pedagogy of undergraduate nursing education in the United States," said Huang.
"She is very knowledgeable about the implications of traditional Chinese medicine in nursing practice and daily life in China," said Tzeng. "She is very willing to share her understanding about Chinese culture with colleagues at UM-Flint."
Contact University Communications & Marketing with comments, questions, or story ideas.