UM-Flint Enrollment Continues to Grow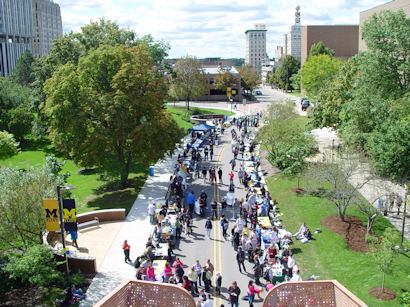 The University of Michigan-Flint has achieved historically high enrollment for the fifth consecutive year. Enrollment for fall 2011  now approaches 8,300 (8,262) students. With the continued increase, enrollment since 2005 has climbed nearly 29%.  This is the eighth consecutive year that enrollment has increased.
The overall growth for fall 2011 is 1.5% and comes from increases in several categories:
–          1.2% increase in undergraduate students
–          3.1% increase in graduate students
–          5.9% increase in transfer students
–          22% increase in student veterans
–          38% increase in international students
"UM-Flint continues to be a top choice for students locally, regionally, and internationally," stated Chancellor Ruth J. Person. "Our enrollment growth is due to our high academic standards and extraordinary faculty and staff who are committed to student success."
Graduate student enrollment has again reached a historically high number with over 1,300 (1,303) students.
The number of international students climbed to 316 compared to 229 in fall 2010. The students are from more than 34 countries, with the largest numbers coming from China, Saudi Arabia, and India.
"The increase of international students on our campus has been the result of direct recruitment efforts in Africa, Asia, Europe, the Middle East, and South America," said Daniel Adams, director of the International Center. "The reputation of the University of Michigan-Flint as an institution offering high quality student-centered education has been gaining strong momentum in these regions, especially among high school and college advisors."
UM-Flint has again seen a significant increase in student veterans with a 22% jump in enrollment for that group. The number of student veterans at UM-Flint grew to 233 for fall 2011.
Contact University Communications & Marketing with comments, questions, or story ideas.