Harry Piper, Longtime UM-Flint Supporter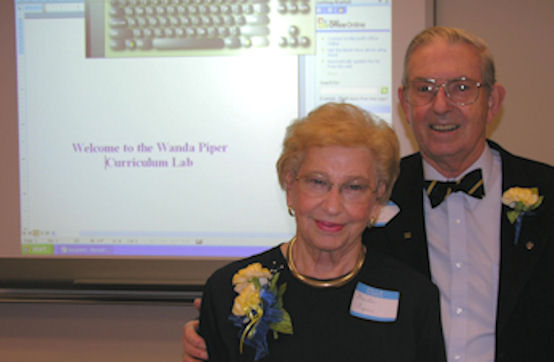 The University of Michigan-Flint lost a good friend and benefactor with the death of Harry Piper on September 5 in Lakewood Ranch, Florida.

Harry and Wanda Piper most recently served as Capital Campaign Co-chairs for the university's fundraising campaign, "Imagine:  The UM-Flint Difference." Their leadership and support during the first major fundraising campaign helped the university exceed its $30 million fundraising goal by more than $9 million.
In 2004, the Pipers pledged $150,000 for the creation, enhancement, and continued operation of the School of Education and Health Services Curriculum Lab. In honor of this gift, the lab was named the Wanda L. Piper Education Curriculum Laboratory. The grand opening celebration for this laboratory, located on the first floor of the Frances Willson Thompson Library, was held November 29, 2006. The lab houses state-of-the-art curricular materials as well as the latest in instructional technology for students majoring in education, faculty, staff, and community members.
In 1998, Piper and his family established the Joyce R. Piper Endowed Memorial Piano Scholarship. This scholarship was named in memory of a beloved sister-in-law, Joyce Piper. The scholarship supports students who excel in piano performance.
The Wanda L. and M. Harry Piper Grant Fund was established in 1986 to provide financial assistance to students who have had to postpone their college education for two years or longer. This endowed fund honors Wanda Piper's pursuit of a college education while raising a family. Over an eight-year period of time, Mrs. Piper earned a Bachelor of Arts in Elementary Education at the Flint campus. The first recipients of this fund were selected during the 1988-1989 academic year. Since then, this scholarship has supported the education of nearly 100 deserving scholars.
Harry Piper attended the University of Michigan where he earned a Juris Doctorate cum Laude in Law in 1956, and a Bachelor of Arts in Economics in 1953.
After leaving private law practice, Mr. Piper joined NBD Bank, N.A. (formerly Genesee Merchants Bank and Trust Co.), retiring in 1988 as Senior Vice President, Cashier, and Secretary of the Board of Directors.
He was a Past President of the M-Club of Greater Flint.
In addition to UM-Flint, the Pipers contributed generously to the University of Michigan's Athletics  program, Law School, WFUM, and are longtime supporters of the Flint community.
"Our condolences go out to Wanda and the entire Piper family," said Chancellor Ruth J. Person. "Their gifts to the university have provided financial help that allowed over a hundred students, who otherwise didn't have the means, to continue their education. They have done so much to help others. We will miss Harry and his great enthusiasm."
The family has planned a memorial service on Saturday, September 17, 1 p.m. at the Court Street United Methodist Church downtown Flint.
Contact University Communications & Marketing with comments, questions, or story ideas.