Bike Across the UM-Flint Campus with Free Bike Share Program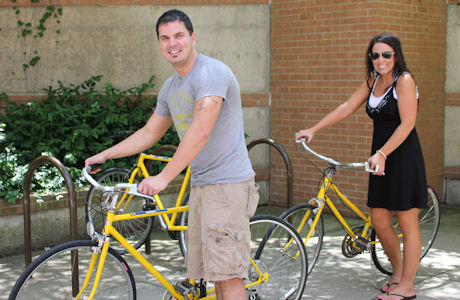 The University of Michigan-Flint Walk and Bike Work Group has launched a free bike share program to encourage campus members to ride bicycles as a means of transportation between buildings and nearby downtown sites.
"We hope to decrease traffic congestion and reliance on fossil fuels, and in turn increase smart commuting, active living, and a more environmentally conscious campus community," said Alexandria Misner of the Walk and Bike Work Group.
The group has received a number of donated bikes from campus and community members, and painted them bright maize to indicate they belong to UM-Flint. A few more bicycles have just recently been added to the program. The bikes can be found in one of the 13 bike racks scattered around campus. Anyone will be able to hop on a "Maize Bike" to ride to another destination on campus or to a nearby business. Be aware if riding on campus, the program encourages that the bicycles be shared. Once placed back on a bike rack, the bikes are open to any user who may need it at any time.
"In an effort to recycle and reuse, and to keep costs down, we are asking the campus community to donate bikes," said Theresa Landis, director of Auxiliary and Recreational Services, "Bikes being considered for donation should be gently used, and in good condition."
Landis said the donated bikes will be given a tune-up and new tires, and will be uniformly painted. Only adult size bikes will be accepted. Donated bikes should be taken to the Recreation Center front counter during open hours.
The Walk and Bike Work Group is planning a Fall Smart Commute event to further promote the bike share program and raise awareness of active living and smart commuting options around campus and the greater Flint area. The event will be held all day Sept. 21 and will include two event tents. During the morning, commuters either walking or bicycling near the campus will be provided with coffee and a light snack. There will be guided tours of campus buildings and downtown Flint in the early afternoon. Later that day, bicycling videos will be shown in the Kiva Auditorium in the University Center.
For questions or further information, please contact Gary Parr at (810) 762-3441 or by email at gparr@umflint.edu.  The group also provides additional information at blogs.umflint.edu/walkandbikegroup.
Contact University Communications & Marketing with comments, questions, or story ideas.