UM-Flint History Department Selects Japan for Next Wyatt Exploration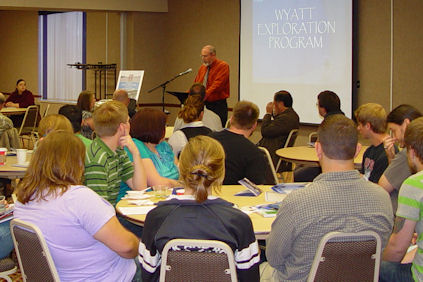 Some University of Michigan-Flint history majors will get a unique opportunity to visit Japan, courtesy of the Department of History. The country has been selected as this year's Wyatt Exploration Program destination, which was recently announced at a special event hosted by the department.

The Wyatt Exploration Program was organized by the Department of History with financial support from the Wyatt Endowment. It focuses on the history and culture of a specific place, or on a particular historical topic. The theme will change on an annual basis, allowing the explorations to span the history of the country and the world. The department's Wyatt Fellow, a faculty member who is an expert in the field under exploration, will plan and organize the program. In conjunction with the selected destination, the department will offer affiliated courses, special extra-curricular events on campus, and a competition to participate in the travel expedition.
Professor Roy Hanashiro, Ph.D., has been selected as this year's Wyatt Fellow who will travel with the group to Japan in May 2012.  Hanashiro, who has been at UM-Flint since 1989,  is active in the Japan Center for Michigan Universities, and is a frequent visitor to Japan.
Participants are selected from history majors (including TCP and Honors). Selection is based on several factors, including the student's academic record and coursework in the field under study. However, the primary factor to be considered will be active participation in the offered on-campus Wyatt Exploration events.  Students will complete and submit an application form to be considered for the selection process in the winter semester 2012.
Most student travel expenses will be fully funded by the Department of History.
A central part of the Wyatt Exploration Program is the guest lecture series. During the course of the fall and winter semesters, the program will bring celebrated scholars from around the nation and world to campus to speak on Japan.
This is the third year the program is being offered. In 2010, students traveled to Poland. Last year, it focused on the history of the American South, and students traveled to Virginia.
For more information on the Wyatt Exploration Project visit: http://www.umflint.edu/history/wyatt.htm.
Contact University Communications & Marketing with comments, questions, or story ideas.