Grants to UM-Flint Nursing Department Top $2.1 Million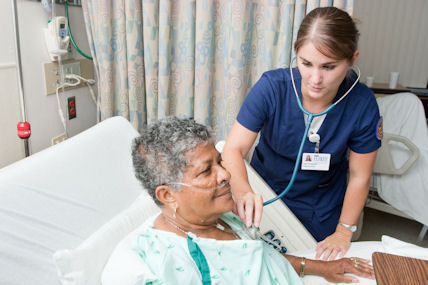 The U.S. Department of Health and Human Services, Health Resources and Services Administration (HRSA) has recently awarded over $2.1 million in new grants to the University of Michigan-Flint Nursing Department.
Project Director Linda Knecht, assistant professor of nursing (with co-director Margaret Andrews, Ph.D., director of the UM-Flint Department of Nursing) was awarded $1.2 million to continue the highly successful UM-Flint Initiatives for Nursing Diversity (UM-FIND) project for the next three years. The project will increase nursing education opportunities for students from disadvantaged backgrounds (including racial and ethnic minorities underrepresented in nursing). UM-FIND will address the nursing workforce shortage by providing recruitment, structured pre-entry preparation, comprehensive retention services, and/or student stipend and scholarships for high school, university pre-nursing, Associate degree nurses (ADN) in the RN/BSN program, and matriculated BSN students.
Assistant Nursing Professor Constance Creech, Ed.D., project director for the UM-Flint Initiative to Strengthen Care to Underserved Populations (UM-FISCUP) says a grant for over $700,000  will allow the continuation of the grant initiatives through June of 2014. The grant came from the HRSA's Advanced Nursing Education Program.  Creech collaborated with  Andrews and Assistant Professor of Nursing Hiba Wehbe-Alamah, Ph.D., who are co-directors of UM-FISCUP in applying for the grant.
The primary focus of the project is the education of graduate nursing students regarding poverty, health care disparities among medically underserved populations, and the provision of evidence-based and culturally competent health care to reduce health disparities.  It will allow an increase in student clinical placements with underserved populations and in the number of minority nurse practitioners, and that will lead to improvements in the overall health of Flint and Genesee County residents. It will also help eliminate health disparities among underserved individuals, groups, and communities.
Other recent grants written by Creech (with Physical Therapy Interim Co-director Lucinda Pflazer, Ph.D.) include funding  from the HRSA for over $221,000 that will be used over the next year for disadvantaged student scholarships in SHPS disciplines along with $32,000  in  graduate student stipends for Nurse Practitioner and Nurse Anesthesia students.
"The UM-FISCUP grant will complement other HRSA-funded projects that support the diversity goals in the Department of Nursing, the School of Health Professions and Studies, and University Strategic Plans," noted UM-Flint's Director of Nursing Margaret Andrews. "This includes the Scholarships for Disadvantaged Students (SDS) grant, Nursing Workforce Diversity (UM-FIND) grant, the Developing Nurses' Cultural Competencies: Evidence-based and Best Practices grant, and the HCOP grant."
Contact University Communications & Marketing with comments, questions, or story ideas.