Peregrine Falcons Love UM-Flint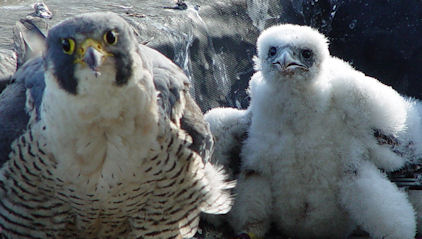 Two peregrine falcons, named Majesty and Barry, have returned to the Northbank Center building (NBC) on the University of Michigan-Flint campus to raise their family. The pair originally had decided on the rooftop of the Mott Foundation Building, but in late May moved to Northbank where Majesty laid four eggs. Two of the eggs hatched.
Recently, Michigan DNR staff responsible for peregrines temporarily removed the two female chicks from the high ledge to band them.  After a closer look at Majesty, the mother bird, Tim Payne, the DNR's wildlife supervisor for Southeast Michigan, wanted to capture her to get her medical attention for a swollen right leg. The attempt to remove Majesty from the ledge failed.
In 2009, the DNR performed their first transfer of a peregrine chick born on one building to a different site.  It was Majesty who had one chick that survived that was hatched on the Durant Building across from Northbank.  The chick, named Maize, was moved to the 12th floor because the Durant was nearing completion of a major remodel and workers had a number of rooftop projects to complete.
David Arnould, a student and ITS employee, and Rori Wiesen, assistant NBC manager, were selected to name the birds. The tradition of naming a bird goes to someone in the building where they nested. David selected Elle, Rori named her chick Emma.
A team from the DNR returned two days later and managed to nab Majesty with a fish net. The team wanted to ease the swelling by removing one of her bands. They had to use a drill and metal cutters to get it off.  A veterinarian examined the bird and determined that no bone in the leg or the claw had been broken. She was treated and returned to the ledge to care for her chicks.
According to Payne, there are only 15-20 nesting peregrine falcon pairs in Michigan. The Ann Arbor campus has a pair with three chicks, nesting on the University of Michigan hospital roof.
Contact University Communications & Marketing with comments, questions, or story ideas.