Club Sports Get a New Place to Play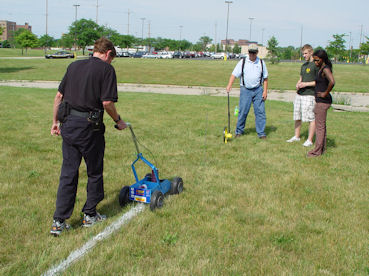 A multipurpose recreation field for University of Michigan-Flint students to use for a variety of activities was recently completed. The project is a collaborative effort between the International Student Center and Provost Office, the Office of Student Life & Club Sports, Facilities and Operations, and the Recreation Center.
"Our goal is to provide a green space where students can kick a soccer ball around, throw a Frisbee, or perform other recreational activity," said Theresa Landis, director of Auxiliary and Recreational Services. "The Recreation Center will have goals, flags, and benches available for checkout."
To prepare the field, the large rocks have been removed, holes were filled with top soil, and grass seed spread. During the last week of June, the field was lined for soccer; however, it will not be regulation size (270'x153'). It should more than meet the need for recreational use.
Student Organizations and Club Sports will be able to use the field for practices, and the Recreation Center will offer its first outdoor Intramural Soccer League in the fall. To ensure the field is available for select activities, students should reserve the space through the Recreation Center; otherwise it will be "open" for general recreational use.
Les Frazee from Facilities coordinated the work and secured the required equipment. The new field is located to the northeast of the William S. White Building.
Contact University Communications & Marketing with comments, questions, or story ideas.