UM-Flint Students Help with Tornado Damage Clean-up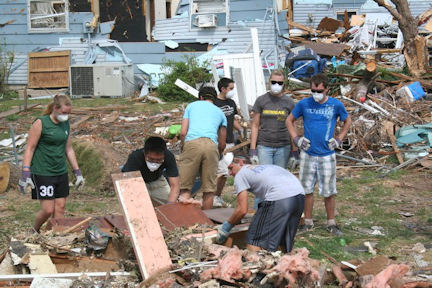 Four University of Michigan-Flint students recently made the 14-hour trip to Joplin, Missouri to volunteer their help after a deadly tornado in May destroyed much of that town.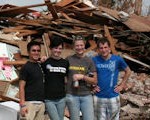 Senior Albert Lee, a business major (far left), wanted to see firsthand the type of damage a tornado can cause, and help those who lost so much. He found three other students, Autumn Mishler, Suzy Limberg, and Michael Whalen, all juniors, who  wanted to help.  A $500 Annual Fund grant made the trip possible. The group left on June 16 and arrived the next morning to begin two days of volunteering.
Lee had signed up with AmeriCorps, and was given a number of project options. While they could have selected clerical duties, the group decided to pick up debris in the 90+ degree weather.
"We were surprised at the amount of damage. The media did not exaggerate," said Lee. "I was shocked at the amount of damage a tornado can cause."
Suzy Limberg had a similar reaction, "It didn't even compare to what you saw on TV. It extended as far as you could see."
The students found hotel rooms in Springfield, Mo., more than an hour drive from Joplin. They cleared debris for two days, and met a number of students from other universities who were also volunteering.
"Of all the volunteers we met, the one that really stood out was a man who came from Japan to help. He barely spoke English," Lee recalled.
"The trip to Joplin, Missouri did something I wasn't expecting. It inspired me," said Michael Whalen. "We met individuals who literally flew to Joplin from places scattered around the world just to lend a helping hand."
Meeting the people who lost their homes or more was an experience Limberg will not forget. "When you met the people, and they told you their stories, my heart just dropped."
One of the things that impressed the students was the reception they received from the "locals."
"The community was so together. To show their appreciation, some of them drove around to give the volunteers water, or ice cream and food," said Lee. "I would love to go again. It was a life-inspiring moment to see everyone come together and help each other."
"I have been volunteering for most of my life, but this was the biggest and most inspiring of any project I have been involved with," said Limberg. "I want to do more."
Autumn Mishler wants to return to Joplin, "In the end we cleared out the yards of three houses. I know that we made a small difference in the community of Joplin, but I can't help but want to do more. I was distraught at having to leave; I wanted to stay for the entire summer and just work. It's going to take years to clear out and rebuild the town of Joplin, and I hope that I have the opportunity to go back and help some more."
Contact University Communications & Marketing with comments, questions, or story ideas.