UM-Flint and MSU Students Form Interdisciplinary Team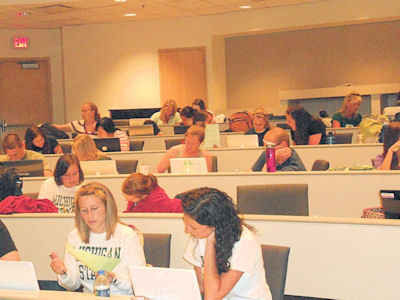 There are times when a person in need of health care will need attention from different medical disciplines. Recently, the Institute of Medicine released a position statement addressing the need for interdisciplinary team work for health care providers to meet the overall quality needs of all clients. In early June, UM-Flint physical therapy (PT) students joined with Michigan State University speech-language pathology (SLP) students to participate in an interdisciplinary team workshop.
"The term interdisciplinary teams refers to a partnership between or among two or more healthcare professionals/disciplines who collaborate to achieve shared decision making according to patient-centered goals and values,"  said Jennifer Blackwood of the UM-Flint Physical Therapy Department. "Successful interdisciplinary teams foster mutual trust and respect as they recognize the importance of each member's knowledge, skills, and perspectives."
PT students were paired up with SLP students to create an interdisciplinary plan of care for a geriatric clinical case. Following the initial meeting students were informed by their instructor of a change in the patient's status and had to provide follow-up communication to their fellow team member to discuss a change in the interdisciplinary plan of care.
"The opportunity to join with physical therapy students at UM-Flint in an interdisciplinary team-based activity allowed our students at MSU studying to become speech-language pathologists the opportunity to broaden their lens of rehabilitation and a team approach to patient care.  Describing the speech-language pathologist's role on an interdisciplinary team and developing a shared vocabulary with a colleague from a different background were practical skills which support students in preparing for upcoming medically based internships," said Katie Strong, MSU Instructor, Department of Communicative Sciences and Disorders. "Sharing a patient and addressing outcomes from a holistic approach rather than discipline-specific was challenging for students.  Allowing students the opportunity to become acquainted with someone from outside their field will hopefully encourage them to create interdisciplinary teams in their professional life."
In the end, it proved to be an important opportunity to learn what other disciplines do, or as one student put it, "I really enjoyed the opportunity to work with a speech therapy student. I didn't realize how much they knew about certain diagnoses and I think they did not know exactly what it is that physical therapists do."
Contact University Communications & Marketing with comments, questions, or story ideas.