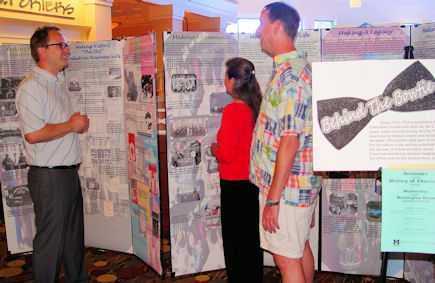 While Flint's automotive history tends to be overshadowed by Buick, Chevrolet played a major role in the economic life of the city. Just how important can be seen in a new exhibit researched and created by University of Michigan-Flint students.
The project is entitled Behind the Bowtie: the People and Culture of Chevrolet in Flint, Michigan.
"I was approached by a handful of community members in November and asked if our students would be interested in a public history project about Chevrolet in Flint," said Thomas Henthorn, assistant professor in the UM-Flint history department. "I assembled a handful of students and we conducted research and oral interviews from January through April."

According to Henthorn, the exhibit covers the creation of neighborhoods, the culture and community inside and outside the factory, Flint's connections to GM milestones, as well as a focus on female employees at Chevrolet.
The exhibit will be featured at the Vintage Chevrolet Club of America Central Meet from July 18-22 at the Holiday Inn Gateway Center, in Mundy Township.
On Wednesday, July 20 from 6 to 7 p.m. students were on hand at the exhibit to answer questions from visitors. At 8 p.m., the two students, Jason Weller and Jeanette Routhier, gave a detailed presentation on certain parts of the exhibit.
The exhibit will be moved to the Sloan Museum as part of the 100th anniversary celebration for Chevrolet.
Contact University Communications & Marketing with comments, questions, or story ideas.