Two UM-Flint Students Honored as Tillman Military Scholars
The University of Michigan-Flint and Pat Tillman Foundation are proud to announce that two students have been selected as Tillman Military Scholars for the 2011-2012 academic year.  They are Kyle Cawood, a Nursing Major, who will attend UM-Flint in fall 2011, and Tiffany Johnson, whose husband is a veteran. She is working on her MBA.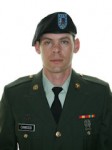 As an Army Combat Medic, Kyle Cawood, "Doc", served his tour of duty in Ar Ramadi Iraq at the Al Anbar Provincial Government Center in 2008.  He was awarded with the Army Good Conduct Medal, Army Commendation Medal, and a Marine Corp Meritorious Mast.  The health and wellness of his soldiers was always his top priority. He would like to eventually become his Battalion's Physician's Assistant and continue to help soldiers in need.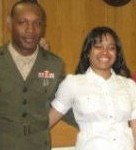 Married to a U.S. Marine veteran, Tiffany Johnson lives in Ann Arbor, MI and studies at the University of Michigan-Flint. Her time at the local VA Health System supporting her husband transition to civilian life, has helped her find her passion in healthcare administration. She has a passion for helping veterans and military families.
The University of Michigan-Flint is one of 12 universities designated as a Tillman Military Scholar University Partner for the 2011-2012 academic year. University Partners are selected based on their innovative service, member-specific support services, and proven culture of community for military families.
"The University of Michigan-Flint continues to build on its commitment to veterans. We constantly assess what services are needed, and how we can meet the need, and now we have the Tillman Military Scholars program to add to the list," said UM-Flint Chancellor Ruth J. Person. "We have made it a priority to do more for the men and women who serve in the military by helping them to achieve their educational goals."
"We are honored to have been selected as a Pat Tillman Foundation University Partner and the opportunity it presents to Veterans on our campus.  Each and every veteran sacrificed to ensure our freedom, and during this process they learned valuable skills which they freely share with us in the classroom and the community," said Michelle Virden, UM-Flint VA certifying official. It is our duty to continuously provide programming and support to Veterans to ensure their continued success both academically and professionally."
The combined efforts of UM-Flint have resulted in helping over 100 student veterans pursue degrees by providing a support system that is specifically tailored to meet their unique needs.  For the 2010-2011 school year, 66 veterans were enrolled in undergraduate programs.
In 2008, the Pat Tillman Foundation established the Tillman Military Scholars program to support educational opportunities for servicemembers and military families by bridging the financial gaps left by the Post-9/11 G.I. Bill. Military families face numerous challenges during the transition from military to civilian life and have unique needs that often prevent the successful completion of a degree. As a result, financial support from the Tillman Military Scholars program covers not only traditional study-related expenses such as tuition and books, but also other needs, including but not limited to housing, transportation, and childcare. In providing this support, the Pat Tillman Foundation aims to remove any and all obstacles that would otherwise prohibit academic success.
Tillman Military Scholars honored with this distinction have demonstrated a commitment to service combined with a desire to pursue impactful educational and career goals. Each year, approximately half of the Tillman Military Scholars are selected from University Partner campuses.
"We are honored to invest in Tillman Military Scholars at the University of Michigan-Flint and welcome them to the Tillman Community," said Hunter I. Riley, Director of Programs at the Pat Tillman Foundation. "They join peers from around the nation who, both in and out of uniform, are leaders on campus and in the community."
With the addition of the third class of Tillman Military Scholars, every branch of the Armed Forces–Army, Navy, Marine Corps, Air Force and Coast Guard–is represented. This newest class of Tillman Military Scholars has individuals pursuing education at every level from undergraduates to Ph.D. candidates at 32 different academic institutions across 22 states.
Pat Tillman Foundation:
Family and friends established the Pat Tillman Foundation in 2004, following Pat's death while serving with the 75th Ranger Regiment in Afghanistan. Created to honor Pat's legacy and pay tribute to his commitment to leadership and service, the Pat Tillman Foundation is a national leader in providing educational support and resources to veterans, active servicemembers, and their dependents. Inspired by Pat's attributes of leadership, passion for education and spirit of service, the Foundation annually awards educational scholarships through the Tillman Military Scholars program. To date, the Pat Tillman Foundation has invested over $4.5 million in educational resources to support individuals committed to a life of service both in and out of uniform.
For more information on the Pat Tillman Foundation, visit www.pattillmanfoundation.org.
Contact University Communications & Marketing with comments, questions, or story ideas.