UM-Flint Campus Soon to Go Smoke-Free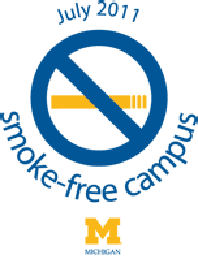 More than two years after its announcement, the University of Michigan-Flint will soon be a smoke-free zone.
In April 2009, the announcement was first made that all U-M campuses will be smoke-free by July 2011. A special committee has been working on the final phase of the plan to make sure that the UM-Flint campus will be ready to go completely smoke-free by the July 1 deadline.
Signage reminding everyone of the date has been placed in over 40 locations on campus since mid-March. Many of the posters are aimed at smokers who are considering quitting. In an effort to assist and encourage smokers to kick the habit, UM-Flint offered faculty and staff free behavioral sessions, and co-pay reductions for prescription tobacco cessation medicines.
In announcing the smoke-free initiative, U-M President Mary Sue Coleman said, "A healthier, smoke-free physical environment will only enhance the intellectual vigor of our campuses. Our decision to become a smoke-free campus aligns perfectly with the goals of MHealthy to improve the health of our community."
Enforcement for the new policy will be sought by peer support, supervisory oversight, and voluntary compliance.
More than 260 campuses in the U.S. are now smoke-free, including our Big Ten counterparts University of Iowa and Indiana University. Even campuses in states with substantial tobacco production, such as the University of Kentucky, have enacted similar policies.
Contact University Communications & Marketing with comments, questions, or story ideas.