UM-Flint and U-M Collaborate on New Master of Public Health Program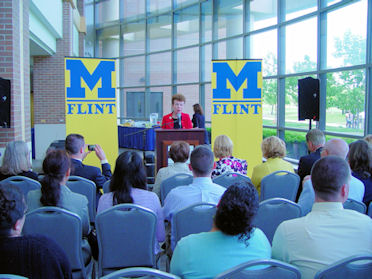 Current and future public health professionals have a new opportunity to further their chosen careers with a Master of Public Health (MPH) degree now offered by the University of Michigan-Flint.
The UM-Flint Department of Public Health and Health Services (PHHS) recently announced it is collaborating with the University of Michigan School of Public Health to offer the MPH by combining the Certificate in Foundations of Public Health (CFPH) program with additional UM-Flint coursework. The successful candidate will also earn the CFPH.
UM-Flint Chancellor Ruth J. Person hosted the announcement in the atrium of the Willaims S. White Building.
A significant portion of the program's courses may be completed online, including 100% of the Ann Arbor CFPH. The online courses are offered through high quality course management systems, and are taught by the same faculty who teach on-campus courses. University of Michigan faculty are true "leaders and best"–experienced, tested, and respected experts in their fields.
"The UM-Flint MPH program offers a new and unique option for individuals living in Michigan to pursue an advanced degree in public health," says Nancy Janz, associate dean and professor of health behavior and health education, of the University of Michigan School of Public Health.  "We are very excited to partner with Flint, providing our on-line core public health curriculum as part of the program. We hope this new collaboration will capture the interest of individuals wanting to make a difference in the public health of residents in our state and worldwide."
"Students who enter the Masters of Public Health program will learn from nationally known scholars of public health from both the Flint and the Ann Arbor campuses of the University of Michigan," said  UM-Flint School of Health Professions and Studies Interim Dean Donna Fry. "This unique educational opportunity will prepare students to provide leadership to public health organizations and agencies to navigate through the changing world of health care reform."
A 2009 comprehensive needs assessment of national public health trends and health status indicators of the Flint population document the need for this graduate degree. The MPH degree  is experiencing increased demand throughout the world as the need and expectation for high quality public health services continue to grow. With the passage of national health care reform, the demand for research and development of health programs is expected to dramatically increase.
The demographics of the current public health workforce are also driving the demand for the MPH degree. Statistics from the Association of Schools of Public Health indicate that there were 50,000 fewer public health employees in 2000 than in 1980. The need is expected to grow as the current workforce nears retirement, and this creates an increased demand for the Master of Health degree around the world.
For complete information visit the Master of Public Health website.
Contact University Communications & Marketing with comments, questions, or story ideas.