MCC and UM-Flint partner to offer new education option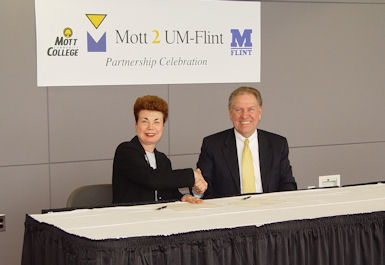 Mott Community College (MCC) and the University of Michigan-Flint have a long history of forming partnerships to better the educational opportunities for area students. Now, the two schools have created Mott2UM-Flint, a new joint admission, concurrent enrollment program that will provide an innovative higher education option for students in the region.
MCC President M. Richard Shaink and UM-Flint Chancellor Ruth J. Person recently signed the agreement at a ceremony held at MCC.
The new program allows students to attend classes at UM-Flint and MCC at the same time, allowing them to combine credits to maximize financial aid eligibility.  A major benefit of this program is the expanded course selection it gives students, providing them with the opportunity to decrease the time to completion for their associate and bachelor degrees.
Other benefits include:
Admission to both institutions through one free online application
Expanded course selection — including online courses offered by both institutions
The option to complete an associate degree while working toward a bachelor's degree
Coordinated advising — UM-Flint and MCC work together to keep students on track to reach their educational goals
Access to student activities and resources on all campuses, including UM-Flint housing
Reverse transfer — students may transfer UM-Flint credits back to MCC to fulfill associate degree requirements
"I want to thank all my colleagues who have worked so hard to make this agreement a success. We will want to do whatever it takes to make sure that we ensure student success so that students stay on track to enroll, attend, and graduate," said UM-Flint Chancellor Ruth J. Person. "This collaborative effort will provide yet another opportunity to complete a college degree."
"Mott Community College and the University of Michigan-Flint have entered into yet another strategic partnership, specifically designed to provide mutual support to our students," added MCC President M. Richard Shaink. "This collaboration increases our capacity to encourage students to consider UM-Flint as an excellent option for them to pursue advanced degrees in cutting-edge fields."
Contact University Communications & Marketing with comments, questions, or story ideas.