Historical Society to Recognize UM-Flint Project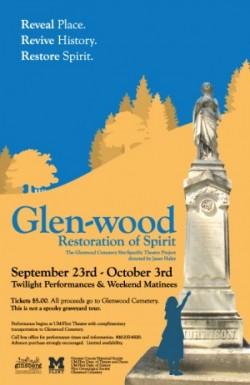 The Office of University Outreach and Janet Haley, assistant professor in the Theatre and Dance Department, will be recognized for outstanding achievement in historical preservation within the community for the Glen-Wood: Restoration of Spirit cemetery tours and performance program.
According to Michael Freeman, president of the Genesee County Historical Society, the selection was made from nominations from the board of directors of the historical society.
"Mona Younis and Janet Haley were instrumental in the advancement of knowledge and intergenerational appreciation of our collective history through this collaborative project between the historical society and the University of Michigan-Flint," said Freeman. "We hope that this project will create new opportunities for partnerships between our organization and our local academic institutions."
Haley called the award a tremendous honor, and said it recognizes the talents of over 100 people that were involved with the Glen-wood theatre project. Plans are being made to re-mount the event again in fall 2012.
She said it would not have been possible without the help of people from many disciplines, "Essential partners in the project include Assistant Professor of History Ami Pflugrad-Jackisch, and her winter 2011 history students, Peter Lemelin, Glenwood Cemetery sexton and his family, members of the Flint Genealogical Society and Genesee County Historical Society, three graduate students in UM-Flint's MLS Theatre and Community program, UM-Flint librarians, student costume designers, student photographers, and a student graphic designer. Two dozen undergraduate students from across disciplines worked to create and perform this new, site-specific theatre event that toured Glenwood Cemetery last fall."
"The Glen-Wood Project is a perfect example of how faculty scholarship and experiential learning can work together to make a meaningful difference in our local community and campus," said Younis, Outreach service-learning coordinator. "UM-Flint is deeply honored by the 2011 Heritage Day Award, and partnering with the Genesee County Historical Society and Glenwood Cemetery was a transformative and fun journey for all involved.  University Outreach looks forward to supporting more projects like this."
The Glen-Wood: Restoration of Spirit project was the recipient of a 2010 Arts of Citizenship fellowship with UM-Ann Arbor.
Other recipients of the historical preservation award include:
-Karp and Associates, Genesee County Land Bank, and Dan Kildee, for the renovation of the historic Durant Hotel.
-Carriage Town Ministries, for University Avenue home renovations.
The award will be made at the Genesee County Historical Society's annual Heritage Day Dinner on Thursday May 26, at the Durant. Following the awards, a presentation on the history of hotels and hostels will be given by University of Michigan-Flint students.
Tickets are $30 and may be purchased before May 20 by mailing a check to:
Genesee County Historical Society
316 Water St.
Flint, MI 48502
Contact University Communications & Marketing with comments, questions, or story ideas.