Join the UM-Flint Common Read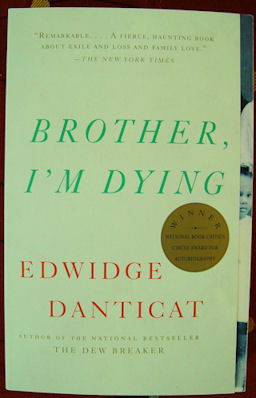 Faculty and staff are invited to participate in the first Common Read at the University of Michigan-Flint. All members of the campus community are invited to read the selection Brother, I'm Dying, by Edwidge Danticat. All of the freshmen class of 2011 will receive a copy of the book at orientation this summer.
This fall, discussion groups, films, and other events will take place centered around the themes in the chosen book. The first Common Read event is a kick-off celebration on Monday, September 19 from 3:30-5:00 p.m. in the Frances Willson Thompson Library atrium.
The Common Read Project is a faculty-led project, in which faculty work in close collaboration with academic and student affairs. Brother, I'm Dying was selected by the 2011 Common Read Committee, which is chaired by Professor Peggy Kahn of Political Science and Aimi Moss, Director of Academic Advising.  The charge of the committee is to select a book that inspires intellectual curiosity, prepares students for the challenging reading that is part of a university education, and contributes to the university as a community of ideas, inquiry, and discussion. The committee also develops programming around the book's themes and issues.
The book will be available for purchase from the UM-Flint Bookstore around the end of May at a 20% discount.
Common Read is made possible by a generous grant from the Frances Willson Thompson Critical Issues Fund.
Contact University Communications & Marketing with comments, questions, or story ideas.