Pedal Power Your Way Across Campus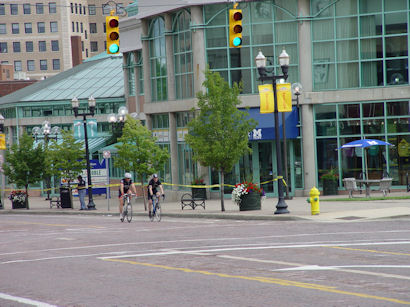 The University of Michigan-Flint is sponsoring a test of a unique program to help students, faculty, and staff get around campus a little faster. And it will be a great opportunity to donate that bike that has been in the basement or garage.
As part of UM-Flint's new "sustainable transportation initiative," the Free Bike Program will be piloted during spring, summer, and fall 2011. Bicycles painted bright yellow (maize) will be disbursed to bike racks throughout campus. Anyone will be able to hop on a "Maize Bike" to ride to another destination on campus or to a nearby business.
"In an effort to recycle and reuse, and to keep costs down, we are asking the campus community to donate bikes," said Theresa Landis, director of Auxiliary and Recreational Services. "Bikes being considered for donation should be gently used, and in good condition."  Landis said the donated bikes will be given a tune-up and new tires, and will be uniformly painted. Only adult size bikes will be accepted.
Donated bikes should be taken to the Recreation Center front counter during open hours. For questions or further information, please contact Gary Parr at 810-762-3441 or by email at gparr@umflint.edu.
Contact University Communications & Marketing with comments, questions, or story ideas.