Genesee Early College Open House Offers Look at Unique High School Health Career Program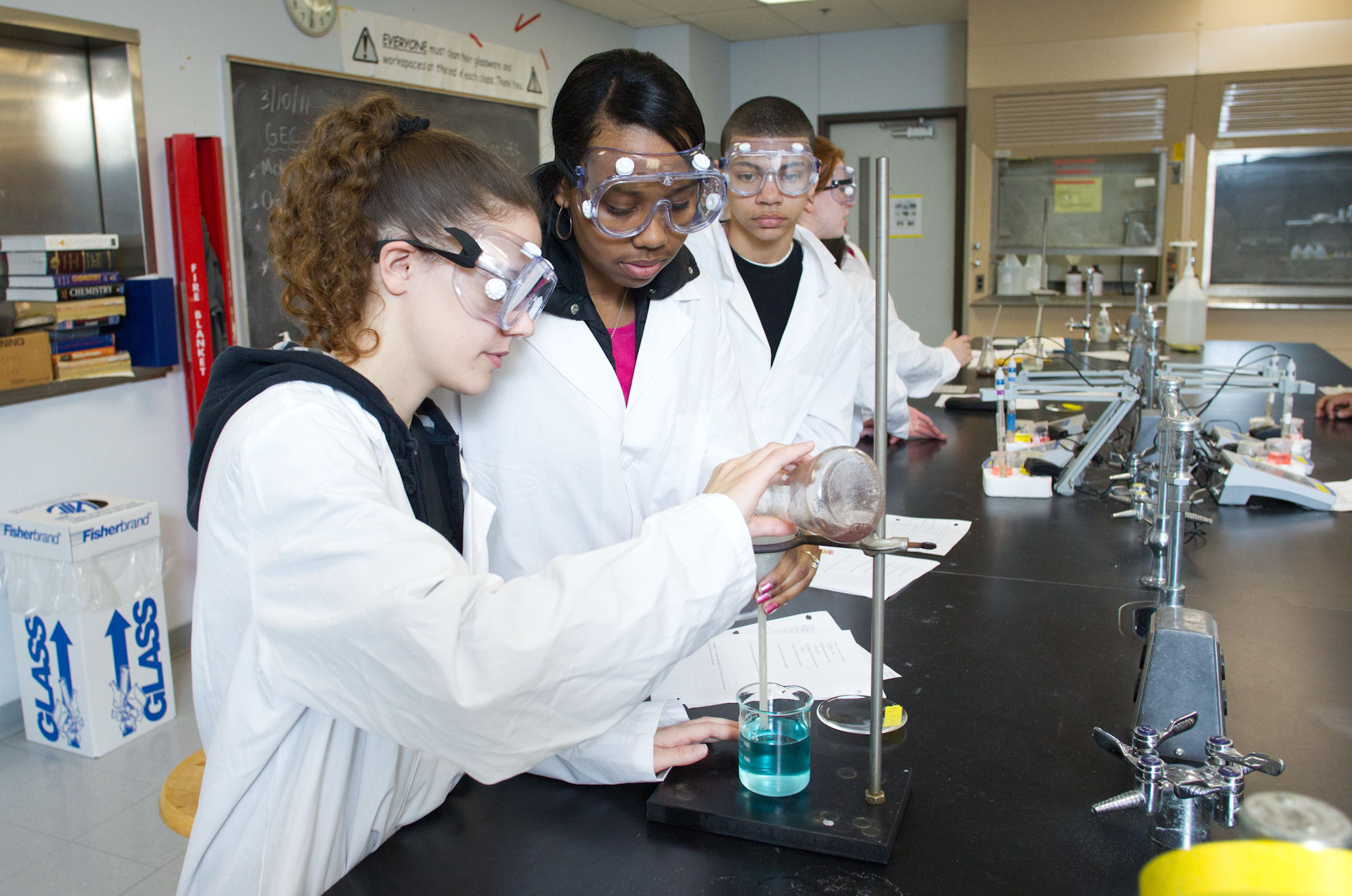 The University of Michigan-Flint and the Genesee Intermediate School District (GISD) were among the first in the state to join in establishing an Early College to serve high school students interested in health careers, and it is the only one with a health career focus to be located on a four-year university campus.
Genesee Early College (GEC) opened its doors on the UM-Flint campus in September of 2007. Since then, the five-year program has produced a number of success stories. While receiving their high school diplomas, students can earn college credits, with up to 60 free of charge.
Christina Ramo recently turned 19. She will be graduating with her high school diploma in May, but she also accumulated 85 college credits. Christina eventually wants to attend medical school, and has already been accepted to UM-Flint. She is developing her course schedule as a senior, and hopes to get her degree in 2012.
"When I talk with my friends back in my home district, they cannot believe how ahead I am. I get lots of wows," said Christina.
One of the unique experiences she had as a student was a clinical rotation at Hurley Medical Center. She also did an internship with the County Medical Examiner.
For Christina, the GEC was a perfect fit. "I like the focus on health careers. We did a lot of things that look great on an application to medical school."
GEC senior Jacob Talhelm said he wanted to be a doctor from the time he was 12 years old. His goal is to be an orthopedic surgeon.  He was a GEC student for only three years, but still managed to earn 60 college credits. He has been offered a $40,000 scholarship to the University of Michigan. For him, the GEC program has been challenging, especially the college work.
"It was something of a cultural shock with the new people and all the new responsibilities," admits Jacob. "I missed some of the traditional high school activities, but for someone not heavy into sports and extracurricular activities, the school works out well.  Getting the college credits for free was a big help and benefit. "
While the GEC is a partnership between the GISD and UM-Flint, there are many other partners who help present the students with a well-rounded experience. They include Genesys Regional Medical Center, Hurley Medical Center, McLaren Regional Medical Center, Mott Children's Health Center, Hamilton Community Health Network, Greater Flint Health Coalition, Genesee Regional Chamber of Commerce, and many other health-related facilities that provide work-based learning experiences for GEC students.
Someone who has already benefited from these community connections is Carmen Hackett, a 2010 graduate who earned 52 college credits. She is a full-time sophomore at UM-Flint, but is also employed by Flint Gastroenterology. While that might be a full load for most 19-year-olds, she returns to campus on Saturday mornings to work with the HCOP-Health Careers Opportunity Program. She counsels other area high school students interested in a health career.
"I always wanted to be a doctor, and attending GEC made me want to do it even more. I feel the goal of becoming a doctor is now more attainable."   She'll start by going to pharmacy school at Ferris State University after graduating from UM-Flint.
"I thought I would miss being at my home school, but in the long run, I didn't; you gain more than you lose."
All of the students admitted that at first it was intimidating being in a class with college students. However, what they found out; if they didn't tell, no one would ask if they were high school students-not even professors.
High school students and parents interested in learning more about the Genesee Early College, are invited to an open house to be held Tuesday, April 26, in the William S. White Building Atrium, from 6-8 p.m. ( White Building is No. 7 on Campus Map).  Please call 810-591-5115 to R.S.V.P. You can visit the GEC website at www.geneseeearlycollege.org.
GEC is North Central Association accredited and is a member of the Middle College National Consortium, and Michigan Early Middle College Association.
Contact University Communications & Marketing with comments, questions, or story ideas.