UM-Flint Students Test Technology with Interviews from Egypt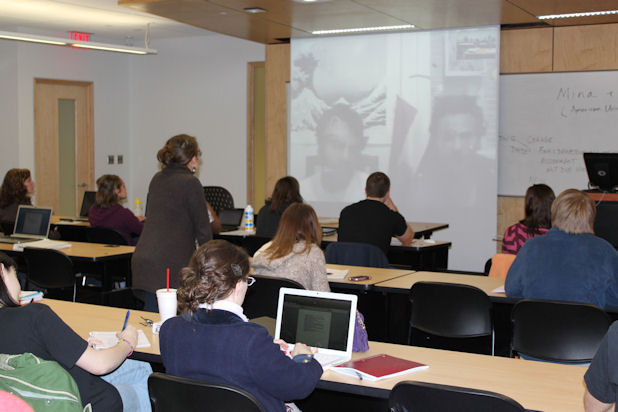 You can read about what's happening in Egypt, or watch the evening news, but a UM-Flint Honors class got an on-the-spot report, live from two students in Egypt.  The Honors 252 students are studying the History of Communication Technology, and the interview gave them an example of how technology, like Skype, can make the world a lot smaller.
The class is taught by Professors Maureen Thum and Bob Houbeck. Houbeck's daughter Elizabeth played a major role in making the Skype interview possible–she was one of the students that had to be evacuated as the demonstrations began to heat up in January. Elizabeth was about to attend the American University in Cairo when she was forced to leave.  She had met one of the Egyptian students years before at a World Youth Day event in Germany and had maintained the friendship.
The Egyptian students told the UM-Flint class that there is a student demonstration somewhere in Cairo almost every day. What was most interesting was how modern communication was used to bring together so many people. The students said it was Facebook and Twitter that was most used by the students to communicate what was happening. They said when cell phones and the internet were shut down, it became difficult to spread information.
As for everyday living, the students said that while the quality of the available food is down, they are still able to meet their daily needs.
Houbeck said the Skype interview was a perfect way for the students to better understand the impact of new technology.
"Skyping to these Egyptian students, who are active players in a revolutionary event and who have a timely UM-Flint connection, seemed an ideal way to demonstrate how new communication technologies can dissolve the walls of the traditional classroom and open up fresh possibilities for teaching and learning."
Contact University Communications & Marketing with comments, questions, or story ideas.