Former Vice Chancellor Remembered for Philanthropic Efforts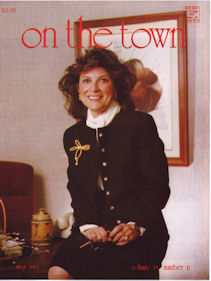 The University of Michigan-Flint family is saddened by the death of former Vice Chancellor for Development Joanne Sullenger.  She passed away on Sunday, March 20 following a brief battle with lung cancer.
During her time at UM-Flint, Joanne raised millions of dollars for countless university projects, scholarships, buildings, and other initiatives. She engaged alumni as well as community leaders to help fund a wide variety of campaigns that are evident across the campus today. The list of projects and programs credited to her success at securing funding is lengthy:
Thompson Library
McKinnon Plaza
Frances Willson Thompson Critical Issues Forum
Thompson Center for Learning and Teaching
Winegarden Visiting Professorship
William S. White Building
Mosaics in the lobby and atrium of the William S. White Building
Establishment of numerous scholarships, endowments, and bequests for the university, including the many Freeman scholarships, the Fran Frazier Student Travel Fund, the Dorothea Wyatt gift to the university, and many others.
Joanne assisted UM-Flint faculty with special projects. Maureen Tippen, assistant nursing professor, noted that a program that for 16 years has allowed Maureen to accompany nursing students to the Dominican Republic to work in clinics in small villages is traced back to Joanne.
"Joanne initially received funding and started a scholarship for this program in 1995. She found donors for this twinkle of a program, and put it on the table for what it is today. She is the reason," said Maureen.
Joanne was with UM-Flint for 18 years before retiring in 2003. Prior to coming to UM-Flint, Joanne worked with school districts and institutions in Michigan and New York including: Flint Cultural Center Corporation; Grand Blanc Community Schools; State University of New York-Brockport; City School District-Rochester, NY.
Her involvement in the Flint area included membership and affiliations with a variety of organizations: American Association of University Women; Association of Junior Leagues, Inc.; Council for the Advancement and Support of Education; Flint Institute of Art; Flint Institute of Music; Michigan Advancement Council; Michigan Nonprofit Forum; Mid-Michigan Chapter of American Society of Training and Development; and the National Society of Fund Raising Executives.
A memorial service for Joanne has been planned for Wednesday, March 30, 1:30 p.m. at the Central Church of the Nazarene, 1261 West Bristol Road.
Contact University Communications & Marketing with comments, questions, or story ideas.