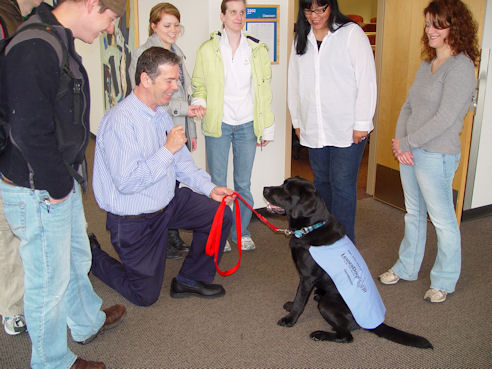 University of Michigan-Flint students in Assistant Professor Mike Lewis' Media Ethics course are learning about something they never expected to be part of the curriculum. They are learning what it takes to raise and train a future Leader Dog.

Buddy is a big, brown-eyed, ten-month-old, black Labrador Retriever that Lewis' family volunteered to raise and train for Buddy's first year. The dog will go back to Leader Dogs for the Blind in Rochester for his formal training this summer.
Lewis brings Buddy to class about once a week as part of his training. Students have taken a liking to the usually playful Lab.
"Being in class gives him (Buddy) the experience he needs with people, and gives us a chance to see what it takes to train a Leader Dog," said student Erin Dezelia.
This is the second time Lewis has volunteered to raise a future Leader Dog. His first would often accompany him to work as a reporter at WDIV-TV News in Detroit. "She became our newshound mascot," he said. "After she graduated, she was paired up with a visually impaired man in Windsor, and so I was able to visit both of them once in a while."
This time, his daughters have taken on much of the work in raising the puppy. "They both wanted to volunteer, so this has been a fun project for our family."
"UM-Flint is a great place to train Buddy, with lots of students and activity. He learns to climb stairs, ride elevators, and go through doors.  Even the traffic downtown is great for training him," said Lewis.
"Buddy gets our students thinking about public service, and about disabilities. We have a visually impaired student in our class, and she's thinking about trying a Leader Dog again after meeting Buddy.
Leader Dogs for the Blind is always seeking puppy-raisers. If the dogs don't make the grade, the puppy-raisers usually have the opportunity to adopt the dog.
"I've been volunteering at Leader Dogs for years – I even did my master's thesis on how they teach people to get around with a Leader Dog," Lewis said. "Our pet Kitta is a career-change dog – that's a nice way of saying she flunked out!"
Contact University Communications & Marketing with comments, questions, or story ideas.