Symposium Focuses on Nursing Research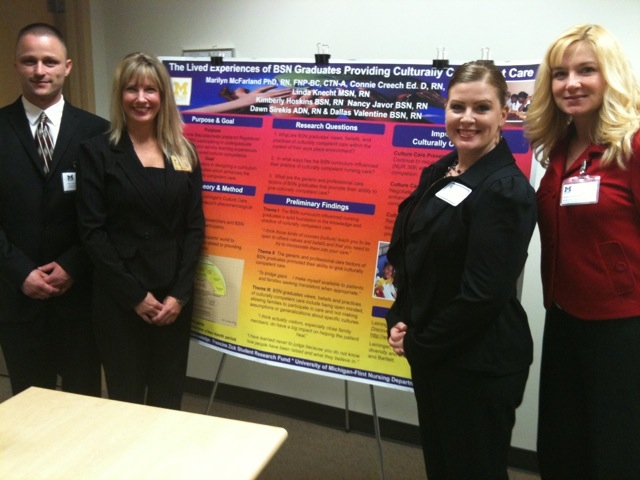 (UM-Flint MSN students present research posters at symposium)
Cultural competence in health care and care of underserved populations are two areas in nursing education receiving a lot of attention in the classroom.  University of Michigan-Flint students in the Masters of Science in Nursing (MSN) program have focused their research this year on these two areas.
Their work was recently presented at the first MSN Research Symposium that attracted more than 50 guests, including students, faculty and staff.
"The response to the research posters presented by the 27 MSN was hugely successful," said Connie Creech, director of Nursing Graduate Programs. "This will be an annual event to showcase student research skills, and their contributions to health care in the community."
Special guests at the symposium were David and Francine Zick, who are sponsors of several student research projects via the Francine Zick Student Research Scholarship.
The UM-Flint annual fund assisted with sponsorship of the event.
For further information about the event, please contact Connie Creech at ccreech@umflint.edu .
Contact University Communications & Marketing with comments, questions, or story ideas.