Former Student Recalls Founding Faculty Member
Professor Emeritus of Political Science, Paul Bradley, passed away on December 15, 2010 in Madison, Wisconsin at the age of 93. Professor Bradley was one of the founding faculty members of the University of Michigan-Flint. He  joined the political science department in 1956, and retired in 1983.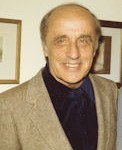 Both faculty and former students remember him as an "excellent teacher."
"He was a brilliant lecturer," recalls John Miller, a member of the first freshman class in 1965. "As soon as he walked into the classroom he started lecturing and continued while he took off his coat.  You had to work hard to take notes.  He didn't stop lecturing until he opened the door to leave the classroom. "
Founding faculty member Al Raphelson, recalled Paul's great popularity with students.
"His classes were always packed. That was especially true in the 60's when we were just beginning to learn about Vietnam," remembered Raphelson, who also was in the political science department.
"He taught political science from a historical prospective."
Details regarding services for Professor Bradley are pending.
Contact University Communications & Marketing with comments, questions, or story ideas.