UM-Flint Joins Downtown Flint Holiday Event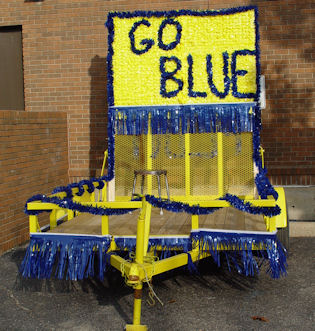 The University of Michigan-Flint will be part of the 2010 Flint Holiday Festival parade which annually features holiday-themed floats and banners. This year's parade is November 30.
Starting at 5:30 p.m., Flint City Hall will set the stage for the evening with the annual lighting of the tree by Mayor Dayne Walling. After the ceremony, the holiday parade will start around 6 p.m.at city hall proceeding north on Saginaw Street through downtown and ending at the William S. White Building.

Volunteers recently decorated the UM-Flint parade float that will carry a D.J. and members of various UM-Flint student clubs. Representatives from organizations are encouraged to walk in the parade carrying banners – schools, churches, nonprofit organizations, and businesses are all welcome to participate. New for 2010 is a $400 top prize for the best-made float.
The University Pavilion (UPAV) and the area near the corner of Kearsley and Saginaw Streets will both be sites of special holiday activities. A stage will be set near the corner that will feature the Flint Institute of Music's Flint Symphony Orchestra Brass Quartet, singers from the New McCree Theatre, and many others.
The University Pavilion will be the "family center" for the evening. Children are invited to participate in a variety of activities, including a visit with Santa and a photographer to capture the moment. The Pavilion will remain open until 9 p.m.
Other UPAV activities include:
Hurley Medical center will be giving away safety reflectors to go on backpacks.
Hurley Fitness will have a Zumbatronics display.
Realtor's Association will give away coloring books.
Mott Community College students will do face painting.
Children's Museum will host a craft table.
Food Bank will have collection boxes.
Contact University Communications & Marketing with comments, questions, or story ideas.