UM-Flint Offers Candy for a Cane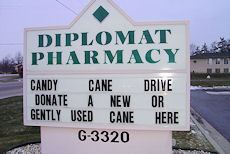 Do you have an old cane that you no longer need? The University of Michigan-Flint Urban Health and Wellness Center would like you to consider donating it. The Physical Therapy Unit at the Center is seeking donated canes for needy patients. In return, they'd like to give you a candy cane as a way of saying "thank you." The canes will go to patients of the Urban Health and Wellness Center.
As a provider of physical therapy services to the greater Flint area, the Center tries to accommodate the population it serves. The Genesee Health Plan recently made a donation that included durable medical equipment that has been distributed free to those in need.  There is a continued need for donation of canes. The ability to provide canes to those in need will prove to be a motivational tool which provides greater mobility. The Candy Cane Drive is an attempt to meet this need.
Six Flint area pharmacies have agreed to help with the cane collection. Boxes can be found at these locations:
Urban Health and Wellness Clinic- 1153 William S. White Building. 303 E Kearsley St.
Union Prescription Center—11830 Saginaw St. Mt. Morris, MI
Diplomat Pharmacy—G-3320 Beecher Rd. Flint, MI
Family Pharmacy—4444 Fenton Rd. Flint, MI
Rite Aid Pharmacy— 218 W. Main St. Flushing, MI
Rite Aid Pharmacy-11609 S. Saginaw St. Grand Blanc, MI
Rite Aid Pharmacy-521 N State Rd. Davison, MI
The drive runs through January 1, 2011.
Contact University Communications & Marketing with comments, questions, or story ideas.