UM-Flint Students Compose Winning Jingles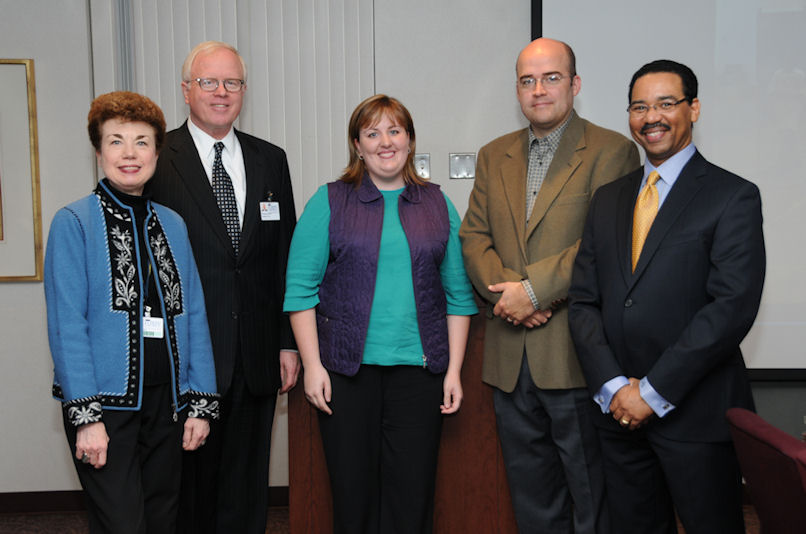 Two UM-Flint music students were named co-winners of a "Kids Healthy Eating" jingle contest. Seniors Bruce Horn (percussion) and Kathryn Morden (piano) were each the proud winners of a $250 prize.
The contest, sponsored by Hurley's Center for Health Outcomes in collaboration with the Kohl's Cares for Kids grant on childhood obesity, solicited original compositions from University of Michigan-Flint Department of Music students. The theme is based on 5-2-1-0, or, 5 fruits and vegetables a day; 2 hours of screen time or less a day; 1 hour of activity; and 0 sweetened drinks. These original compositions featured the 5-2-1-0 theme, each with a rock and rap feel, respectively, and were selected by a distinguished panel of judges.
"Once you hear the jingle, it sticks in your head, makes you tap your toe, bob your head, and want to get up and spread the word! That's what we want: an infectious, memorable message to help fight the current overweight and obesity plague not only here in Genesee County, but across the nation," adds Michael Boucree, M.D., vice president for outcomes management and chief quality officer at Hurley Medical Center.
"I am enormously proud that our students could make such a meaningful contribution to an issue that impacts our community," stated Chancellor Ruth J. Person. "I am a strong believer in community collaborations, and this opportunity to combine music with a public health initiative is an ideal partnership. It shows the talent of our students, and the ways that local organizations can come together to help solve problems."
Monthly childhood obesity and healthy eating awareness engagements with jingle roll-outs are scheduled at local schools and other locations throughout Genesee County, including Hurley Health and Fitness Center, The Children's Museum, International Academy of Flint, St. John Vianney, and the University of Michigan-Flint Recreation Center. You can also access the jingles to reinforce the 5-2-1-0 message by visiting hurleymc.com, or Hurley Medical Center on Facebook.
Download Kathryn Morden's 5-2-1-0 Rap Jingle and Bruce Horn's 5-2-1-0 Rock Jingle.
(Photo: UM-Flint Chancellor Ruth J. Person, Hurley CEO Patrick Wardell, Kathryn Morden, Music Prof. Brian DiBlassio, and Michael Boucree, M.D.)
Contact University Communications & Marketing with comments, questions, or story ideas.