UM-Flint Math Nights Involve the Community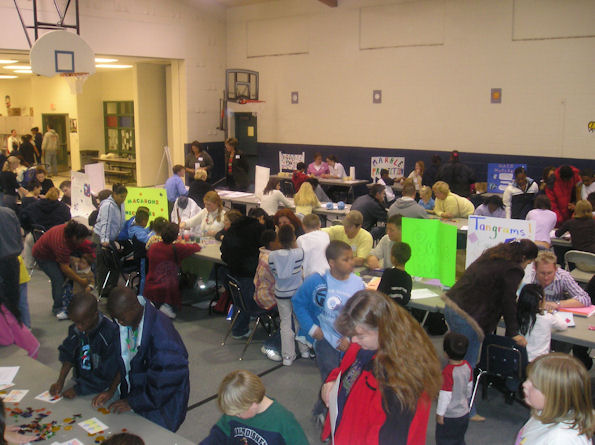 Providing opportunities for students to participate in community service projects is a key component of a UM-Flint education.  Students majoring in elementary education have been preparing to make math a little more interesting for students at Cook and Mason Schools in Grand Blanc where special Math Night were recently held.
On November 3, more than 200 elementary students and parents attended a Math Night presented by UM-Flint students at St. John Vianney in Flint.
Mathew Wyneken, UM-Flint associate professor of mathematics education is working with the elementary school officials to present the Math Night experience.
"Family Math is a win-win for both the university and the school.  Our teacher candidates get real hands on experience interacting with kids and parents, while the school gets to provide a hugely fun and rewarding learning experience on a topic that is not often thought of as fun," said Wyneken. "Yes – math can be FUN!"
The UM-Flint students work in teams of two, setting up "math stations" in each school's gymnasium.  Posters are displayed at each station describing the activity.
The Math Night in Grand Blanc was held Thursday, November 11.
The UM-Flint Math Department also sponsors Family Math Nights. The department holds two each year, one in fall the other in the spring. An open invitation is given to Flint area elementary students and their families to attend the events held on the UM-Flint campus.
High school students from throughout the state are encouraged to participate in the annual Math Field Day that has been hosted by the math department for the past 43 years in late winter. All secondary schools in Michigan are encouraged to send a team with a teacher advisor. First, second, and third place prizes of books, medals, trophies, and plaques are given for five of the competitions and for overall team performance in three divisions.
Contact University Communications & Marketing with comments, questions, or story ideas.