UM-Flint Remains the Fastest-Growing Public University in Michigan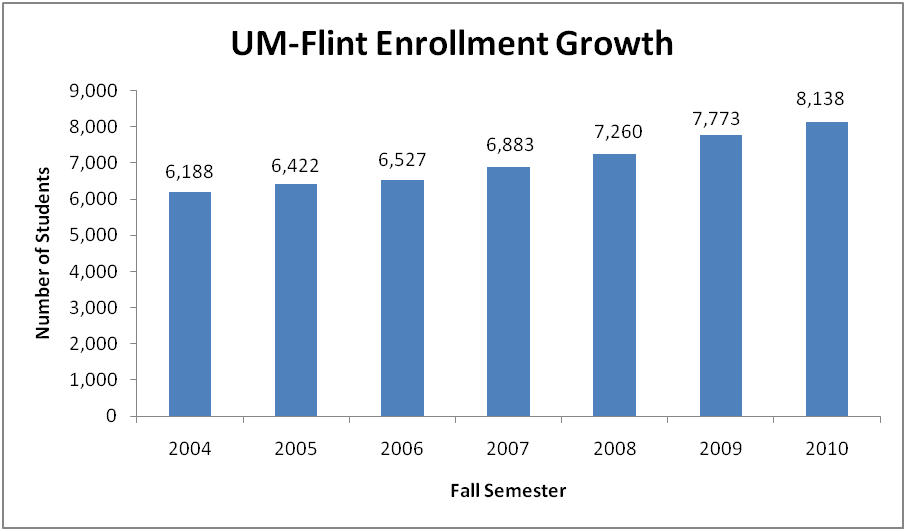 For the fourth consecutive year, the University of Michigan-Flint is the fastest-growing public university in Michigan.  UM-Flint experienced a growth rate of 4.7%, the highest growth rate of any public university in the state.  Since 2004, enrollment at UM-Flint has surged, 31.5%.
"The phenomenal student enrollment at UM-Flint for the past several years is not just good news for the campus, but good news for our community as a whole," stated Chancellor Ruth J. Person.  "People view Flint and Genesee County now as a hub for education, helping citizens to earn a degree that will prepare them for the competitive jobs of the 21st century."
The chart above illustrates the strong, upward trend in enrollment at the UM-Flint campus from 2004 through 2010.  During this period of time, UM-Flint has added several degree programs at the doctoral, masters, and undergraduate levels, in addition to an aggressive recruitment strategy in Michigan as well as internationally. Enrollment increases at UM-Flint in recent years have been in all categories, including freshmen, graduate students, transfer students, international students and returning students.
"The university is in the midst of strategic planning for the next five years, and discussions regarding enrollment growth are well underway," said Chancellor Person.  "As part of our mission, we are focused on providing an excellent academic experience for each student based on their individual needs.  This growth shows that this formula for success works."
Contact University Communications & Marketing with comments, questions, or story ideas.