First UM-Flint Student Presents at SACNAS National Scientific Conference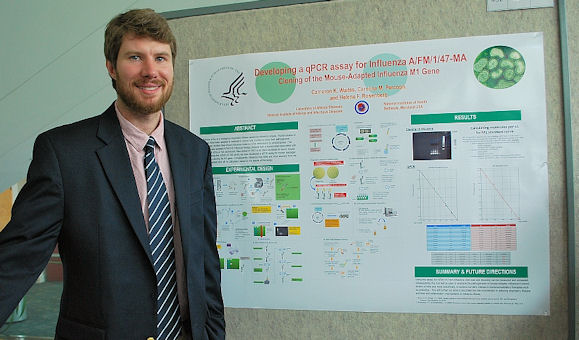 University of Michigan-Flint senior Cameron Waites recently returned from one of the largest scientific conferences for undergraduate and graduate students in the U.S. The 2010 SACNAS (Society for Advancement of Chicanos and Native Americans in Science) National Conference was held in Anaheim, California.
Waites is the first UM-Flint student to ever present a poster at the conference, and this year, was the only representative from any University of Michigan campus. His presentation was based on research he did while at the NIH (National Institutes of Health) this past summer.
"While a scholar in the National Institutes of Health Undergraduate Scholarship Program, I worked in the lab of Helene Rosenberg, M.D., PhD. My research project was titled Developing a qPCR assay for Influenza A/FM/1/47-MA: Cloning of the Mouse-Adapted Influenza M1 Gene," said Waites. "During this project, I learned many molecular and microbiology techniques, and completed the basis for future work in the lab that will allow us to assess the amount of influenza virus in various tissues."
For Waites, participating in the conference was critical in making the most of his undergraduate education, and remaining an active participant in research will assist him to reach his future goals of becoming a physician-scientist.
While having the opportunity to participate in various programs, including the recent conference, Waites has developed additional knowledge and skills in the area of cultural competency.
"As I reflect on my cultural competency interests at UM-Flint, and the internship experience as a Michigan in Washington Program participant in Washington D.C., I recognize the need for increased participation and representation of persons of color in the science, technology, engineering, and mathematics fields, and being able to gain further experience through personal relationships, networks, and conversations at SACNAS has further enriched my understanding of these issues."
Contact University Communications & Marketing with comments, questions, or story ideas.