Smartphone App to Make UM-Flint Campus Life a Little Easier
University of Michigan-Flint Assistant Professor of Marketing Sy Banerjee was one of the winners in a competition to develop web or smartphone applications that enhance government services for residents.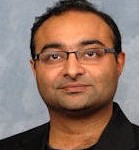 Banerjee took third place for his OMG (Oh My God) Campus web application in the OakGov Challenge, and shared a total of $10,000 in prize money sponsored by AT&T. Oakland County Executive L. Brooks Patterson, in his 2010 State of the County address, announced the contest inviting tech-savvy programmers in the Economic Growth Alliance region (Oakland, Livingston, Genesee, Lapeer and St. Clair counties) to create new ideas and applications that take a plethora of public record data and turn them into either a web or smartphone application.
The OMG Campus web application is planned to benefit UM-Flint's 8,000 students. The plan is to create a mobile website for helping students, faculty, and staff access real-time or crisis-related information such as exam deadlines, class cancellations, guest speakers, and daily discounts from local merchants.
"While getting information and feedback about our campus, I saw this as a way to connect our students with downtown businesses and residents as well as creating a virtual, real-time marketplace," said Banerjee.
He says the program is currently in the prototype stage, and still needs some finishing work. He is confident it will operational by January, and finished by May 2011.
First place in the competition was for a Parcel Viewer iPhone application that was designed for residents to view maps and county-provided information about properties, parks, and other sites in Oakland County.
A Food Violations iPhone application that is intended to enable residents to determine whether the restaurant they wish to visit has had any critical or non-critical health code violations by the Oakland County Health Department, took second place.
Contact University Communications & Marketing with comments, questions, or story ideas.