UM-Flint names 13 students as Maize and Blue Scholars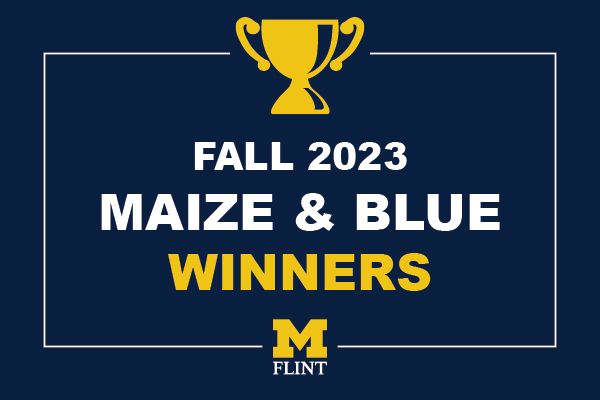 The University of Michigan-Flint has announced the summer and fall 2023 Maize and Blue Distinguished Scholar Award recipients.
The Maize & Blue Award is the highest academic recognition given to undergraduate students during commencement season. The award is presented to no more than 26 students per year who excel academically and exemplify intellectual maturity and depth, character, talent, and service to the university and the community. The recipients are selected by a faculty committee, with both faculty and staff writing letters of recommendation for students who apply for the award.
The fall 2023 Commencement Ceremonies will occur, Dec. 17, at the Riverfront Conference Center. The student commencement speakers are Theo Ellis, Tayah Fantin and Kyra Salim.
Summer and fall 2023 Maize and Blue Distinguished Scholar Award recipients include:
Chavella R. Garibay
Psychology with a Specialist in Aging minor
Hannah J. Helzerman
Mathematics Teacher Certificate Program with English TCP and Psychology TCP minors

Jennifer A. Musk
Psychology with a General Business minor
Aaminah T. Najjar
Biology with a Pre-Physician Assistant concentration and a Public Health minor

Richard Seifferlein
Political Science
Angel G. Saber
Health Care Administration

Kyra A. Salim
Health Sciences with a Pre-Physician Assistant concentration

Aaron P. Moore
Mathematics with a Mathematics for Data Science concentration and an Economics and Data Analysis minor
Sydney R. Ramberg
Biology with a Pre-Veterinary concentration
Timothy J. Brooks
Business Administration Operations & Supply Chain Management and Business Administration International Business with a Management concentration
Theodis C. Ellis, Sr.
Business Administration
Sarah N. Buchan
BSN General
Tayah M. Fantin
BSN General
To learn more about the fall 2023 graduation ceremonies, visit the UM-Flint Commencement webpage.
Logan McGrady
Logan McGrady is the marketing & digital communication manager for the Office of Marketing and Communication.