Roll for Initiative: UM-Flint theatre season kicks off with 'She Kills Monsters'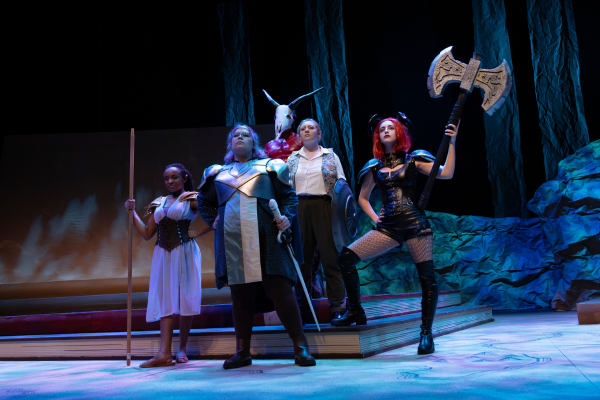 The 2023-2024 University of Michigan-Flint theatre season kicks off this weekend with an action-packed production of "She Kills Monsters," which blends together the fantasy world of Dungeons and Dragons, the talents of both seasoned and new student actors, and a wide range of theatre storytelling elements including shadow play and stage combat. That combination creates what Janet Haley, associate professor of theatre and director, bills as an "adventure in the courage of the human heart.
"It's an honor to launch the season with this production," said Haley. "It celebrates the power of ensemble collaboration and creativity among students, faculty and staff. It showcases the professional design technology training opportunities for UM-Flint students in our department. It's imaginative, hilarious, visually stunning, and opens the heart in surprising and beautiful ways."
However, Haley cautioned that the production contains flashing lights and stage violence, as well as themes of grief, courage, and LGBTQIA+ identities. She feels this production is appropriate for ages 16 and up.
Haley said one benefit of this production is the number of students involved. The cast has an equal split of seasoned student actors who have performed in previous UM-Flint productions and newcomers.
Gavin Laux, a senior criminal justice major from Davison, will be one of the new faces on the stage this fall. He plays the role of Miles, boyfriend to the production's protagonist Agnes.
"Miles works through many insecurities throughout the story that myself and other male-identifying members of the audience may be able to relate to," said Laux.
Laux adds that taking the Acting for Non-Majors course with Haley is what gave him the push he needed to audition for this production.
"It was one of my first completely in-person classes at UM-Flint and my first experience with theater. I developed great connections with my classmates, which inspired me to get more involved," said Laux.
Layna Bollwitt, a sophomore theatre design and technology major from Davison, is one of those seasoned actors and is taking on the lead role of Agnes Evans. This is her first time playing a lead role in a production at UM-Flint. She said that, while she didn't have a particular role in mind when auditioning, she was excited to work with Haley again in an upcoming production.
"I am so honored and grateful to bring Agnes to life. To me, she represents the stages of grief that we all experience in our lives, especially denial and acceptance."
Bollwitt added that she wasn't familiar with D&D before being cast, and she's thankful that her brother could assist.
"My little brother Quin is a dungeon master, which means he typically runs a campaign for other players. He's been helping me do some research."
This is a significant production for Bria George, a senior theatre major from Grand Blanc, as it serves as her senior capstone course, and she will be playing the roles of Vera and the narrator. She said there are a couple of different reasons why she wanted to get involved.
"I felt like I owed it to myself to participate and to challenge my abilities."
According to George, her favorite part about being involved with "She Kills Monsters" has been working with the ensemble of the company. "I love the teamwork, the non-judgmental atmosphere of theater, and I feel like I'm a part of something big, and amazing."
"She Kills Monsters" runs from Oct. 27-29 and Nov. 3-5 at the UM-Flint Theatre. Tickets can be purchased in the theatre lobby before the show and are also available on the Flint Institute of Music website.
If you would like more information on getting involved in the fine and performing arts, would like to make a donation, or would like to share your questions or thoughts, please email Haley at jehaley@umich.edu.
Madeline Campbell
Madeline Campbell is the communications specialist for the College of Arts & Sciences. She can be reached at mciak@umich.edu.