Innovative ideas fuel UM-Flint student competition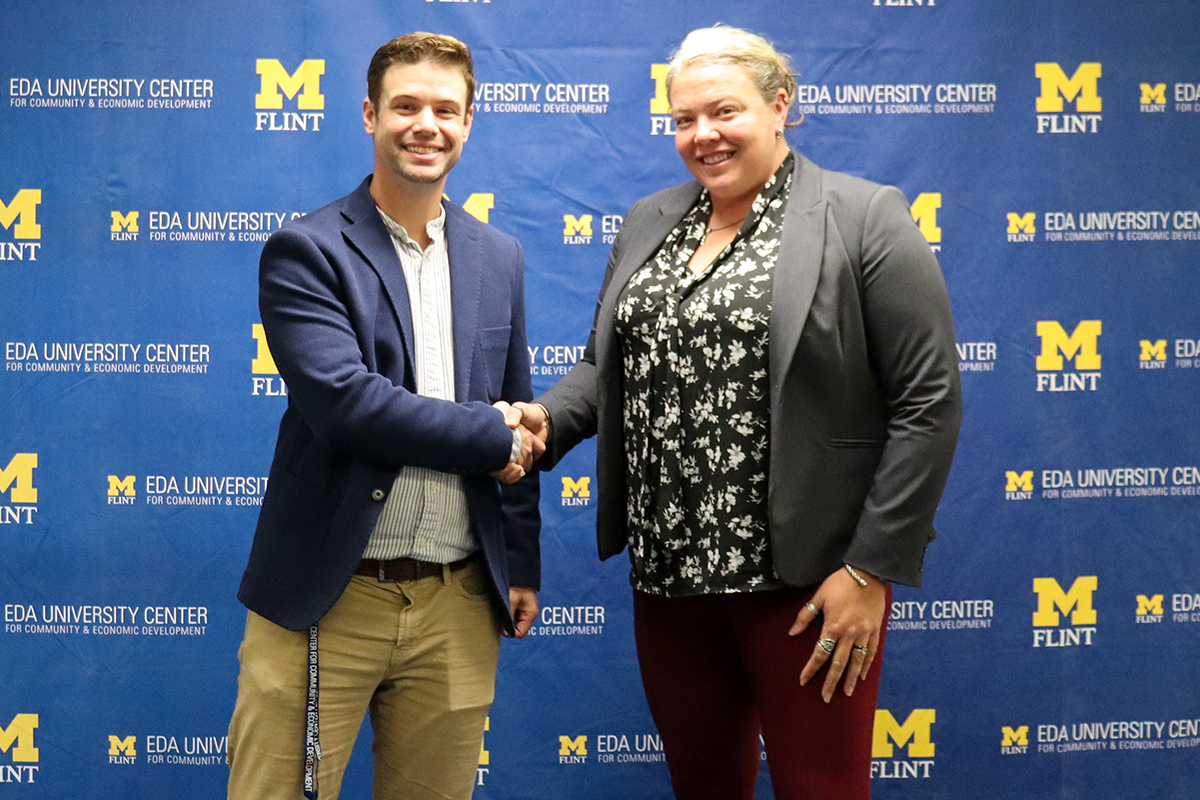 A quartet of University of Michigan-Flint students recently took the ancient proverb, "necessity is the mother of invention," to heart via the Office of Economic Development's UMake the Change Student Innovation Competition.
The competition encourages an innovative mindset among UM-Flint students from all disciplines. Students must submit a short video pitch and PowerPoint describing their unique idea for an innovative product, service, process or design to participate.
"The competition is part of our office's larger Michigan Wolverine Innovation Network, which includes the MWIN Faculty Innovation Fellowships each winter semester and works to help UM-Flint students and faculty navigate the proof of concept and commercialization of their innovations," said Nic Custer, innovation services manager, in the Office of Research and Economic Development.
With funding from the C.S. Mott Foundation, the OED awarded four prizes to UM-Flint students, ranging from $250 to $1,000. In addition to cash prizes, winners were provided up to 10 hours of no-cost business mentorship and commercialization resources – including business plan development, legal assistance and graphic design services – to move their ideas forward.
Judges for the competition included Tyler Bailey, deputy director of business services, city of Flint; Keith Kelley, associate professor of international business, UM-Flint School of Management; and Shelby Coates, marketing and communications coordinator, OED.
Judging criteria included:
The idea is a straightforward solution to a problem.
The idea has a specific target audience or audiences.
The idea has a unique advantage over existing competitors and alternatives.
The solution is scalable.
The solution is likely to be implemented.
Winners were selected based on the idea's potential real-world impact, how well the ideas were articulated in a time as short as two minutes, clarity of information, and uniqueness of the ideas.
Ideas included an app to help students manage daily expenses and develop financial literacy skills, a plastic wrap cutting drawer, eco-friendly toilet jets, and journals to solve anxiety and identify relationship red flags.
Winners in the third annual competition included:
Heather Burram, a physical therapy graduate student from Ann Arbor, fourth place, whose "Silver Steps Dance Party" idea is an interactive game designed for senior citizens to get them more physically active through low-impact dance using oldies and classic songs and motion sensor technology to track their movement. Burram was awarded $250.
Jeremiah Lucas, a senior computer information systems major from Grand Blanc, third place, whose myoelectric prosthetic bionic arm is an affordable prosthetic arm using electrodes and an EMG sensor to detect muscle signals from the healthy arm using an Arduino microcontroller to power servo motors and move the arm. Lucas was awarded $400.
Jamiah McQuiller, a sophomore cybersecurity major from Flint, second place, whose CardioVr idea uses VR technology to explore cardiac MRI data in real-time to enable more accurate diagnostics, personalized treatment planning and enhanced medical education. McQuiller was awarded $600.
Shanna Haver, an occupational therapy graduate student from Ypsilanti, first place, whose SeAccess Autonomy Concept Dock was developed to provide a barrier-free experience for individuals who use wheelchairs and want to participate in adaptive sailing. Haver was awarded $1000.
Robb King
Robb King is the director of marketing and communications at UM-Flint. He can be reached at rwking@umich.edu.