UM-Flint students take the stage for 'Curious Incident of the Dog in the Night Time'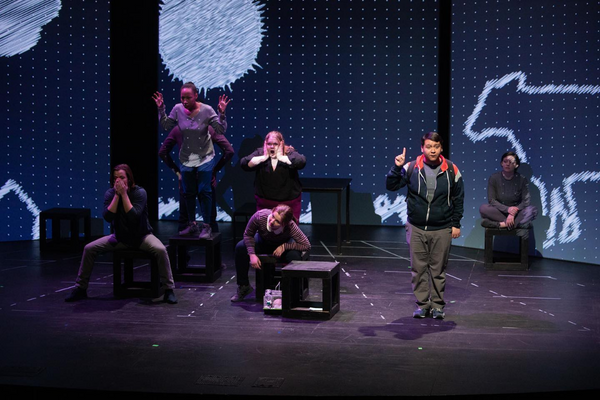 A teenage math whiz is wrongfully accused of killing a neighbor's dog, setting a plot in motion that challenges his social skills and uncovers secrets of his family's past.
Audiences were treated to this intrigue and more as they came to see, "The Curious Incident of the Dog in the Night Time," Feb. 17-19 and 24-26, at the University of Michigan-Flint Theatre. The production came shortly after UM-Flint hosted the Kennedy Center's Region III American College Theatre Festival in January. Janet Haley, associate professor of theatre, directed the play, which was adapted from the 2003 novel written by Mark Haddon.
The student actors, stage managers and crew had the opportunity to work alongside UM-Flint design faculty and staff, who are working professionals in Michigan and regional theatre, as well as with a guest professional projection designer, Alison Dobbins. Haley worked with student actors and employed an ensemble approach in directing to generate the staging and movement for the production. The student actors and Haley selected the variation of each scene that would best showcase each actor's strengths and talents while working in service of the action of the story.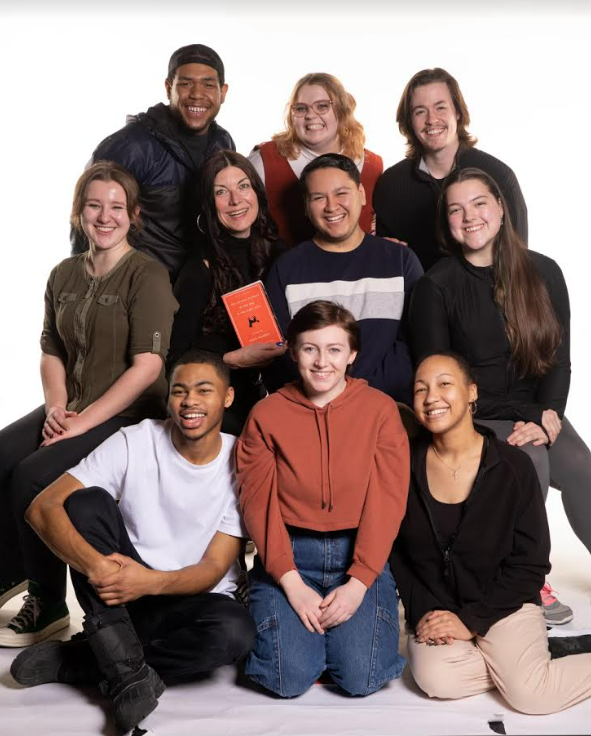 Enrique Vargas, a senior theatre performance major from Flint, played the lead role of Christopher Boone. Vargas said that stepping into the role had its challenges, which included playing a neurodivergent character and doing so in an authentic and respectful way.
Vargas was also able to draw similarities between himself and the character he was playing.
"Over the course of the play, Christopher discovers both his bravery and self-confidence, which serves as an analogy for my time here at UM-Flint," Vargas said. "I am honored to end my time at UM-Flint with this multifaceted and beautifully complex character."
Paul Gregor, a senior theatre major from Flint, was equally inspired by the production's characters. "I saw the show live a couple of years ago, and I wanted to get involved as soon as I heard that UM-Flint was doing it," he said. "It was one of the most entertaining and memorable shows I'd ever seen."
Gregor said that while playing multiple roles proved to be a bit of a challenge, but the experience was worthwhile.
"Working through the variable scenes required a lot of patience, but is incredibly rewarding in the end."
Charis Holmes-Jones, a sophomore theatre major from Flint, said that she wanted to get involved in the production because it featured a lot of action, which was especially attractive to her as a dance minor, stating that "I've never been in a play with this much movement." Bethann Sampson, a first-year student from Grand Blanc, got involved in the production after taking a class with Haley. "Theatre is a big part of my life and being in shows has become second nature to me," she said. "Taking the voice and movement course with Professor Haley was a bonus. I knew I had to act in a show she was directing."
Haley, a UM-Flint alum, has directed 21 productions at the university and said that directing at her alma mater is exciting because, "The students and I find the staging and the interpretation of the lines together. I view my directorial productions as collaborative and value innovations with the student actors. It's exciting to enable them to use their bodies, voices, imaginations, and joy to help tell a story, together. We agree to work as storytellers, working in service of the story, for the live audience of UM-Flint and surrounding communities."
Madeline Campbell
Madeline Campbell is the communications specialist for the College of Arts & Sciences. She can be reached at mciak@umich.edu.