UM-Flint physical therapy professor honored with Governor's Service Award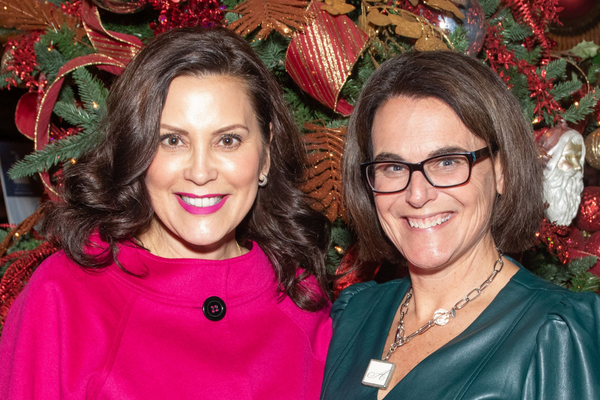 University of Michigan-Flint students and patients who visit HEART, the pro-bono clinic operated by UM-Flint College of Health Sciences students and faculty, know that Amy Yorke is one of its driving forces. She ensures that Flint residents receive free physical therapy services and therapeutic exercise classes, and students have meaningful learning experiences.
Yorke, an associate professor of physical therapy, who is also associate director of community engagement for UM-Flint's Department of Physical Therapy, was recognized for those efforts this week and announced as one of 46 recipients of the 2022 Governor's Service Awards. The yearly statewide honor by the Michigan Community Service Commission recognizes volunteerism, service and philanthropy. This year's recipients were honored at a ceremony on Nov. 17. Yorke's award was in the health impact category, one of 10 classifications.
Yorke was nominated by Emily Ahern, a second-year physical therapy student from West Bloomfield, who gathered feedback from Yorke's colleagues, physical therapy students and alumni, and HEART patients to accompany the nomination.
"Dr. Yorke inspires students, colleagues and community members with her passionate commitment to give back and serve others in need," Ahern said. "I look up to her as a mentor and role model and a bright reflection of what I am striving to become. Her passion, motivation and leadership are inspiring as she helps her students and patients succeed."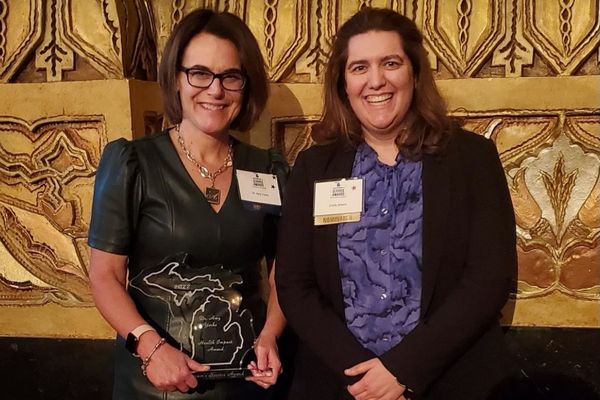 Yorke, a graduate of UM-Flint's health sciences and physical therapy programs, started teaching at her alma mater in 2008 after working in clinical practice as a neurologic physical therapist.
HEART, which stands for Health Equity, Action, Research and Teaching, began in 2010. Yorke increased her involvement with the clinic in 2014 as she noticed an equivalent increase in the number of patients with neurological conditions such as stroke and Parkinson's disease that were seeking treatment.
She started a HEART exercise class for people with Parkinson's disease in 2016 and one for people who have had a stroke in 2022. Both student-run classes currently operate each Friday at the Sylvester Broome Empowerment Village in Flint along with one-on-one physical therapy and occupational therapy services. Students also teach virtual exercise classes through the Michigan Parkinson Foundation every other week.
The services are essential for patients who don't have insurance or have exhausted their benefits.
"People have a fundamental right to be mobile and to be safe being mobile," Yorke said. "Insurance benefits for physical and occupational therapy can be limited. HEART fills in a gap for our patients and also for our students. I can have students read about Parkinson's disease, but the real learning happens when a person with that condition is in front of them and needs their help."
As associate director of community engagement, a role she took on 2018, Yorke provides oversight for HEART, overseeing students' work with patients and ensuring the clinic is adequately staffed. She also works with faculty from other disciplines, including occupational therapy, and an advisory board of community members.
Yorke said that HEART is rewarding for everyone involved. Students learn from patients and their fellow students. Patients living with life-changing diagnoses see improvements in their health and also get the satisfaction of knowing that they helped students as much as the student's helped them.
"If you have a stroke or are diagnosed with Parkinson's, suddenly your life is very different," she said. "The patients are such good teachers. For them to feel purpose again is one of the best gifts that I can give them. It is so powerful for them to realize that they are helping students learn."
Ahern said that volunteering at HEART continues to validate why she is studying to become a physical therapist.
"Experiencing the exuberant joy among patients and caregivers when progress is made is humbling and inspiring," she said. "Patients love coming to HEART and look forward to it because they enjoy the camaraderie of supporters and 'fans' while achieving goals. Dr. Yorke does a wonderful job of creating community for patients."
Yorke is always looking for new ways to improve patient care and student learning. She was recently awarded the Solstice Foundation's 2022 Vaughn Philanthropy Award. She plans to use the grant accompanying the award to train in Rock Steady Boxing and bring that class to HEART in 2023 as a way to increase the racial diversity of participants and build on Flint's rich boxing history.
HEART is also looking for other ways to expand, with options including working with pediatric patients and bringing services to other locations, such as senior centers.
"There is no way I could do this without the support of the College of Health Sciences, the Physical Therapy Department and our students," Yorke said. "As a professor, I don't just influence one patient at a time but cohorts of students that then go on to impact many patients. It is incredibly rewarding."
To learn more about HEART, visit its website.
Martha Pennington
Martha Pennington is the communications specialist for the College of Health Sciences. She can be reached at mkpennin@umich.edu.