UM-Flint CIT professor awarded research funding for deep learning approach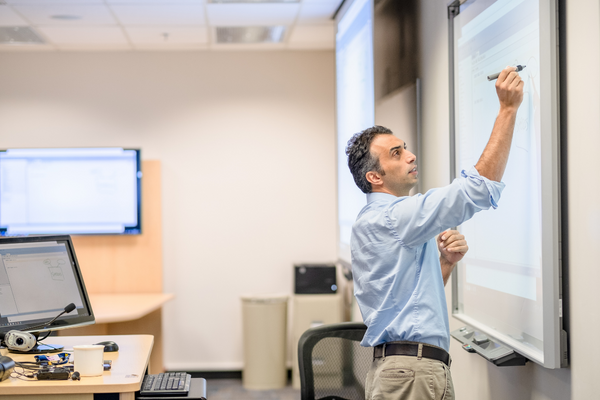 Halil Bisgin, associate professor of computer science at the University of Michigan-Flint's College of Innovation & Technology, has been awarded nearly $20,000 in grant funding through the university's Research Creative Activity Small Grant Competition. The RCA program provides internal funding for new and innovative approaches to research. Bisgin's application was for "A Deep Learning Approach for Combining Nuclear Magnetic Resonance Spectroscopy and Mass Spectrometry based Metabolomics Data Towards Disease Prediction."
Through his collaboration with Beaumont Health, Bisgin noticed that when detecting and predicting diseases such as Alzheimer's disease, researchers and clinicians typically utilize a combination of biomarker measurements gathered via two different techniques. Biomarkers are substances in the body that can be measured to predict disease, infection or likelihood of recurrence. This biomarker data is then reviewed holistically to make disease predictions. This process is lengthy and Bisgin believes there is a more efficient means of deciphering the data by cutting down on the possible sources.
His research focuses on metabolites which are substances created or used when the human body breaks down food, chemicals or tissue. Bisgin is hopeful that using metabolites will provide enough information to draw the same conclusions currently drawn from the multisource approach in disease prediction.
"The final goal for anyone doing discovery is to narrow down the possible sources," said Bisgin.
Bisgin's main contribution is working to replace the conventional technique of merging data sources with something called deep neural networks, which is an AI technique that uses sophisticated modeling to process data in complex ways. While Bisgin notes that this is only an incremental contribution, it will lead to a more efficient detection method in the future.
Through his collaboration with Beaumont Health, Bisgin is provided with the necessary data and he builds the model that tells their team what has been identified so that they can make more timely disease predictions.
Bisgin is currently on sabbatical in Switzerland working on similar deep learning research at the University of Zurich and will bring that research back to UM-Flint with him for incorporation into his U.S.-based work.
To learn more about CIT, visit its website.
Dayne Hopkins
Dayne Hopkins is the communications specialist for the College of Innovation & Technology. Contact him at dayneh@umich.edu.