UM-Flint food pantry expands to offer clothing, toiletries and more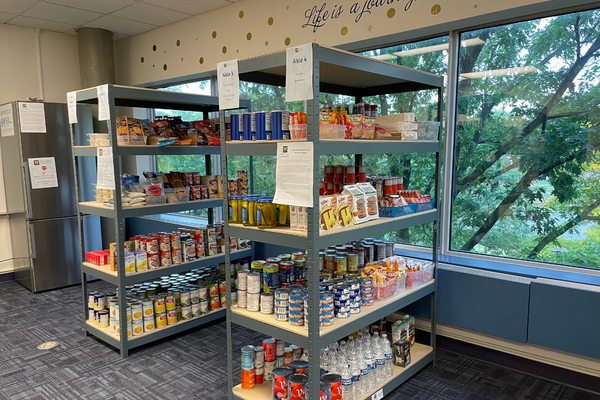 To create a one-stop shop for supplemental food, clothing, toiletries and basic needs, the University of Michigan-Flint has transformed its former food pantry into Wolverine Essentials.
The resource, available to all current UM-Flint students, aims to help those with food insecurities and provide basic resources as they work toward their degrees. Wolverine Essentials is now located in 381 University Center near the Office of the Dean of Students and the Student Involvement & Leadership Loft.
"Many of our students are dealing with varying stressors impacting their academic success, especially in regard to food, clothing, affording basic necessities and knowing where to find needed resources," said Anthony Webster, assistant director of community standards. "Wolverine Essentials is important as it can help to temporarily relieve some of this stress while also connecting students to the needed resources to ensure long-term support."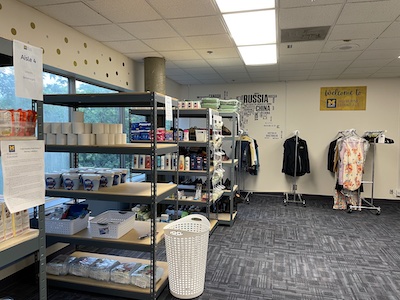 Formerly the Wolverine Food Den, the resource started in 2019 through a collaboration between the Division of Student Affairs and the Department of Social Work to address food insecurity on campus. At the time, the Social Work Department found nearly 60% of students regularly or occasionally skipped meals and close to 40% lacked basic food needs. Grant funds were secured from UM-Ann Arbor and the Food Bank of Eastern Michigan to begin the new pantry.
In the years that followed, the food pantry grew to include gently used clothing, toiletries and hygiene items, and provide assistance with state benefits and other resources such as housing and transportation. Wolverine Essentials has computers available for students to use to access their state benefits, with knowledgeable staff on hand to assist.
The supplemental food items available include oatmeal, granola bars, cereal, cake mixes, cookies, ramen noodles, pasta, rice, condiments, and canned goods such as vegetables, beans, soup and broth. Toiletries and hygiene products include soap, shampoo, laundry detergent, menstrual products and toilet paper.
Wolverine Essentials is open 11:30 a.m.-3 p.m., Mondays, and 10 a.m.-4 p.m., Tuesdays and Thursdays.
For more information, contact flint.sil.foodpantry@umich.edu.
Lindsay Knake
Lindsay Knake is the Communications Coordinator for the UM-Flint Division of Student Affairs. Contact her with any questions, comments, or ideas about the DSA newsletter, social media, events, and communications.