UM-Flint professor researching the future of transportation in metro Detroit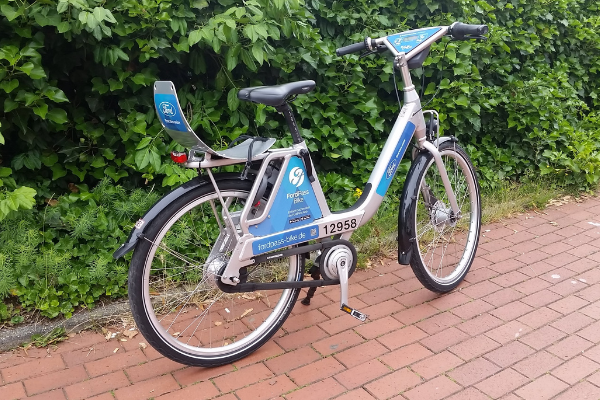 Traversing metro Detroit on electric bikes could provide an easier and greener way of getting around the Motor City and a joint University of Michigan research team will work to prove that and more during the coming year.
Led by Greg Rybarczyk, associate professor of geography at the University of Michigan-Flint, and Fred Feng, assistant professor of industrial and manufacturing systems engineering at the University of Michigan-Dearborn, a team of researchers from across the country are spearheading a project titled, "The e-bike boom: Examining key safety factors on e-bike potential to promote sustainability and equity in Detroit."
Rybarczyk and Feng are being joined in the project by colleagues from UM-Flint, UM-Dearborn, California State University-Los Angeles, University of Florida and Columbia University.
An e-bike is a bicycle equipped with a small rechargeable electric motor that can give a boost to the pedaling rider, according to Michigan.gov.They are part of a transportation mode called micromobility which could make active travel easier for everyone, especially marginalized populations because it expands the area people can reach without driving a car. E-scooters, hoverboards, electric skateboards, cargo bikes and electric skateboards are also included in this category.
Additionally, e-bikes offer an environmentally sustainable way to travel and cost a fraction of what an automobile does, making it an equitable form of transportation, according to Rybarczyk. For comparison, the price tag for an e-bike starts at about $600, whereas a used car with less than 50,000 miles costs about $20,000, excluding tax, title and insurance, in and around the Flint area.
Rybarczyk, who has been studying active transportation such as cycling, walking and intermodal transportation for more than a decade, said that his recent personal experiences with micromobility modes such as e-bikes and e-scooters are what drove him to initiate this research project.
"It all started during my sabbatical at Bergische Universität Wuppertal (Germany) in 2016," Rybarczyk said. "I led a team of researchers to understand bicycling stress while riding using wearable sensors and geospatial technology. While that research project looked at how stress impacts bicycling behavior, I also noticed how popular e-bikes were in the city and on campus, which sparked my curiosity."
Naturally, he had to try it for himself.
"Wuppertal, Germany is in a river valley, so the hills surrounding the city can be daunting for a bicyclist, but the electric boost provided from the e-bike made it a breeze to go from one side of town to the other," said Rybarczyk.
He also had experiences with micromobility closer to home. A ride through the streets of Detroit on an e-scooter evoked childhood memories for him as he weaved through traffic and zipped over potholes.
And while micromobility has its benefits, it also presents its own set of unique problems–safety being the primary concern. Rybarczyk and team plan to address those issues utilizing a nearly $40,000 grant from the UM-Dearborn – UM-Flint Collaborative Research Grant initiative. The team will use the funding to better understand how to improve e-bicyclist safety and enjoyment to address sustainability and equity concerns in the metro-Detroit area.
In order to collect the data the research team needs about user experiences, they'll be asking study participants to complete surveys and take part in field experiments involving biosensors, GPS, videography and bicycle sensors. This comprehensive approach will help the team understand how micromobility can be promoted to address equity and sustainability concerns in their study area.
Rybarczyk added that this research project is just the beginning of what he and his team hope will be a long-term research collaboration.
"Our team's long-term goals are to build on our findings and investigate the feasibility of integrating micromobility travel modes within a broader smart transportation system in other areas throughout Michigan and perhaps even nationwide," he said.
Individuals interested in participating in the research project can contact Rybarczyk at grybar@umich.edu or Feng at fredfeng@umich.edu.
Madeline Campbell
Madeline Campbell is the communications specialist for the College of Arts & Sciences. She can be reached at mciak@umich.edu.