Careers with a Cybersecurity Degree | University of Michigan-Flint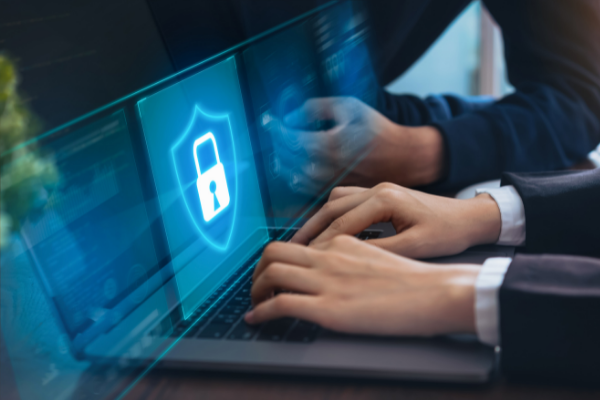 What Can You Do with a Cybersecurity Degree?
Pursuing a degree in cybersecurity can lead you to a booming field where job opportunities abound.
In the United States, there are almost 600,000 unfilled cybersecurity positions, and the supply of qualified workers is far behind the demand. That means, with a cybersecurity degree, you have a wide range of options for your employment with high-income potential.
While you can find cybersecurity job placements in almost every industry, you may make the biggest impact by protecting sensitive data for those that are greatest in need of cybersecurity professionals, such as financial services, healthcare, government agencies, and retail.
If you are thinking about joining the growing cybersecurity field and starting a meaningful career, here are some of the high-paying entry-level positions you can find after graduating with a bachelor's degree in cybersecurity.
Information Security Analyst
Annual Salary Potential: $103,590
Information security analysts play a vital role in planning and executing cybersecurity measures to protect organizations' computer networks from cyber-attacks and data breaches. They monitor the network infrastructure and detect and resolve vulnerabilities to improve security.
Penetration Tester / Ethical Hacker
Annual Salary Potential: $114,902
Penetration testers, sometimes also called ethical hackers, are cybersecurity professionals hired to try to break into their employers' IT infrastructures such as web servers, applications, and databases. Through their hacking attempts, penetration testers reveal and measure the holes and vulnerabilities that malicious hackers can exploit to endanger a computer system.
Network Security Engineer
Annual Salary Potential: $113,918
As the builders and maintainers of an organization's security systems, network security engineers design, implement, and update tools and applications in an organization's network. With in-depth knowledge of security products, the latest technologies, and security protocols, they are also experts in network-based security risk assessments.
Digital Forensic Specialist
Annual Salary Potential: $78,994
When data breaches happen, digital forensic specialists use retrieval techniques to analyze physical and digital evidence such as log files, hard drives, and data sources and reconstruct the sequence of malicious activities. After the investigation, they write technical reports to detail their case findings and give recommendations for security enhancements. Digital forensics specialists often collaborate with legal teams, so familiarity with law enforcement and cybersecurity compliance is necessary for the job.
Incident Responder
Annual Salary Potential: $74,138
Supporting forensics investigation efforts, incident responders provide immediate first-line responses to intrusions or exploits as they arise. Compared to the digital forensic specialists who mainly conduct investigations, incident responders focus more on the technical side of security auditing, monitoring, and intrusion detection.
Beyond the entry-level roles mentioned above, as you expand your abilities and experience, you will have opportunities to advance your career to mid-level or senior-level positions such as Senior Cybersecurity Analyst, Cybersecurity Manager, Cybersecurity Architect, and Chief Information Security Officer.
Building Your Qualifications for a Cybersecurity Career
Obtaining a bachelor's degree in cybersecurity can help you open the door to the above rewarding career prospects. However, in addition to a college diploma, employers are looking for candidates who possess relevant skills and practical experiences. Some cybersecurity positions may also require professional certifications demonstrating your competencies. 
 In-Demand Skills
To increase your marketability while studying cybersecurity, make sure you focus on developing the following essential skills that employers value in their candidates:
In-depth knowledge of security for database and operating systems including Windows, UNIX, and Linux
A fundamental understanding of computer networking and cloud computing
Expertise with standard programming languages such as Python, Ruby, PHP, Java, C++, C#, and .Net
Knowledge of threat prevention and antivirus principles such as VPNs and firewalls
Proficiency in algorithms of symmetric and public-key cryptography, key distribution and authentication, wireless network security, email security using protocols like PGP, S/MIME, intrusion detection approaches, IP security, firewall, and web security
Strong analytical thinking, problem-solving, communication, and leadership skills
Relevant Internship Experience
In addition to your degree, hiring managers expect you to have relevant work experience in cybersecurity or IT. Therefore, when working towards your bachelor's degree, don't forget to utilize your institution's career resources to help you launch internships or apprenticeships in cybersecurity-related fields.
The University of Michigan-Flint's Bachelor of Science in Cybersecurity program, for example, integrates an internship course into the robust curriculum. This setting allows you to develop professional experience and earn college credits at the same time.
Hands-on professional experience empowers you to apply your knowledge to resolve security issues and build your resume with tangible achievements. 
Certifications
Cybersecurity certifications can help you stand out from other job applicants. Even though they are optional, oftentimes employers prefer to hire candidates who can validate their skillsets and expertise through professional certifications. Some of the most popular cybersecurity certifications include:
The CompTIA Security+ certification is open to all levels of cybersecurity professionals. The certification demonstrates your proficiency in IT and security best practices.
Certified Ethical Hacker (CEH)
The CEH certificate validates your skills in penetration testing, cyber-attack detection, and prevention. The certificate exam accepts entry-level professionals who have at least two years of experience in information security. However, you can still take the certification exam without work experience, as long as you complete the official EC-Council training.
Certified Information Systems Auditor (CISA)
Designed for entry-level to mid-level IT professionals with two to five years of experience, the CISA certification showcases your competencies in assessing, auditing, and controlling security vulnerabilities.
Certified Information Systems Security Professional (CISSP)
Created by the International Information Systems Security Certification Consortium (ISC), the CISSP certification is intended for professionals who have more than five years of experience looking to advance their roles in cybersecurity. 
Jumpstart Your Career with UM-Flint's BS in Cybersecurity Program
In response to the employment requirements and market needs, the University of Michigan-Flint created the Bachelor of Science in Cybersecurity degree program to help you acquire the most sought-after skills and practical experience in this emerging field.
Want to embark on a fruitful career in cybersecurity and achieve your career ambitions? Contact us to get more information about the cybersecurity program!
Logan McGrady
Logan McGrady is the marketing & digital communication manager for the Office of Marketing and Communication.