UM-Flint graduates celebrate on campus during Fall 2021 Commencement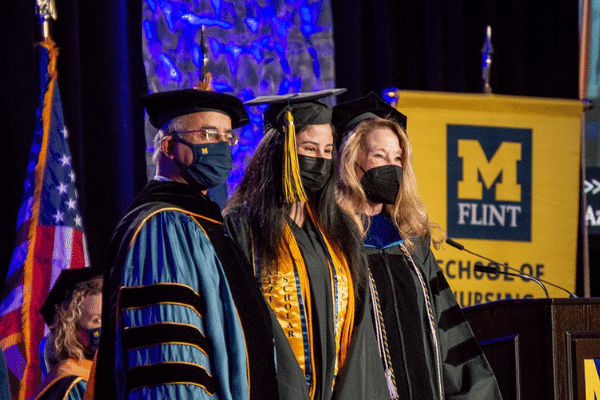 In a six-ceremony feat, the University of Michigan-Flint celebrated its graduates in a safe and special way.
Following the theme of "Celebrate Blue, Celebrate You," the Fall 2021 Commencement ceremonies paid tribute to the graduates of 2020 and 2021 at the Riverfront Banquet Center on December 17-19. Following campus health guidelines, the weekend's ceremonies were divided between schools and colleges and live-streamed for those unable to attend. More than 450 students attended the ceremonies, in addition to their friends and family members.
UM-Flint last held an in-person commencement in December 2019.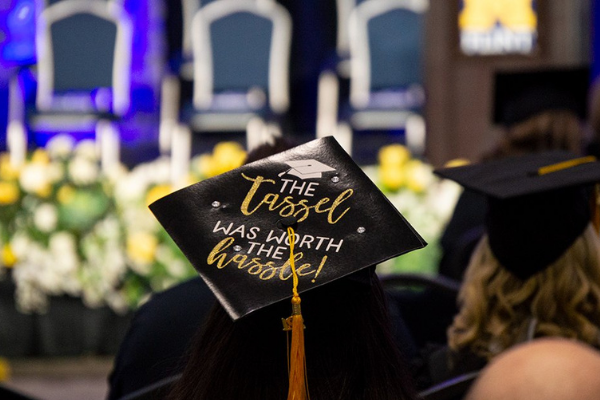 "This commencement is special, not just because it marks a return to in-person recognition, but because it celebrates the unique resilience and dedication of our 2020 and 2021 graduates," explains Sonja Feist-Price, provost and vice-chancellor for academic affairs. "Their persistence in the most challenging of times demonstrates their motivation, capability, and strength of character to the world."
Sentiments recognizing the determination of graduates in a rapidly changing world were shared by deans of each school and college as they addressed their students.
"[The pandemic] has taught us to be creative, flexible, resilient, and solution-oriented … nothing stops the power of learning, and nothing can take the power of your education away from you," noted Susan Gano-Phillips, dean of the College of Arts & Sciences. "You are the ones the world needs to bring about positive changes … Each of you is ready for a world that needs you."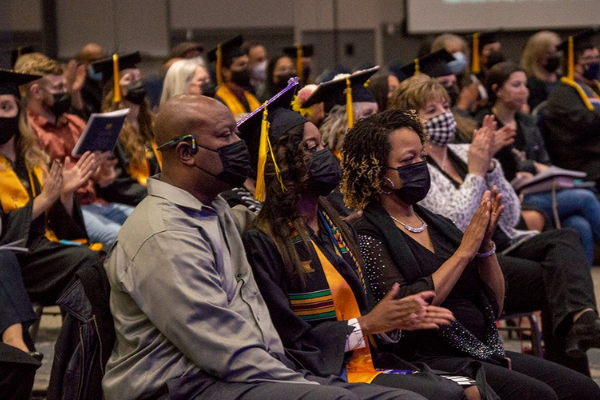 Continue reading for more highlights.
Returning in recognition
Since the last in-person ceremony in December 2019, commencement activities have been held in a virtual format. In acknowledgment that commencement is one of the most important milestones in a student's education, graduates from the previous academic year were invited back to celebrate their achievements among family, friends, faculty, and staff.
Alexis Menard (Marketing and Organizational Behavior & Human Resources Management '21) attended the School of Management ceremony on Sunday after earning her degree in April.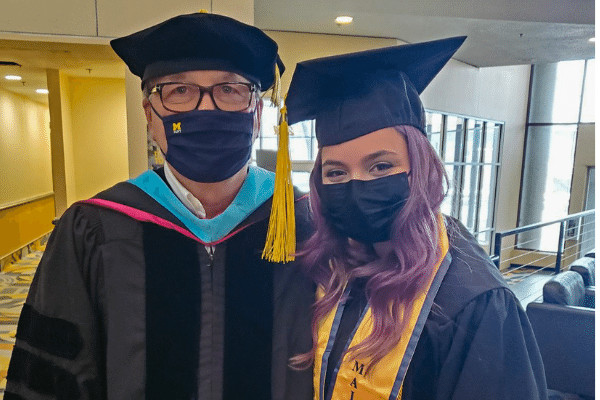 "I'm excited to have this chapter in my life officially come to an end. To finally walk across the stage and be recognized as a Maize and Blue Distinguished Scholar while my parents watched in the audience meant so much," Menard said. "For all grads, completing our degrees while balancing other commitments during a pandemic was not an easy journey, but we were able to persevere and had determination. I'm glad my peers and I had this opportunity to celebrate our accomplishment of being college graduates together."
More than a weekend
While the commencement ceremonies were certainly a highlight of this semester's celebrations, graduates were recognized in many other formats as well.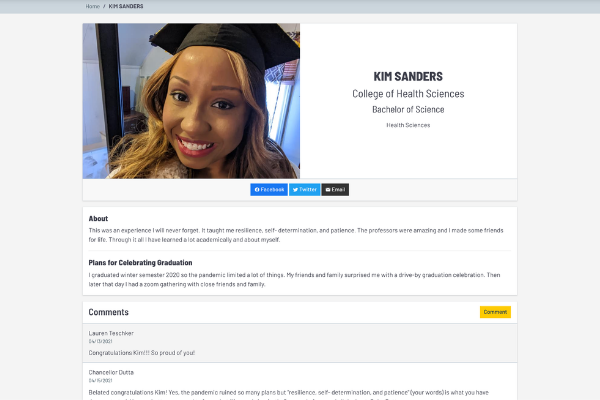 Graduates of both 2020 and 2021 were invited to submit information to be featured on the UM-Flint website. Graduates shared a photo, favorite memories, student organizations, and their plans for celebration.
Students also submitted profiles to be shared on social media. These were posted in the days leading up to commencement.
Student Reactions
For Harley Brown (Communication '21), attending an in-person ceremony was an experience he will never forget.
"This is one of the proudest moments of my life," Brown said. "Being a first-generation college student, I had felt like I would never make it to this point. To be here with all my friends and those who supported me really makes the moment even more memorable."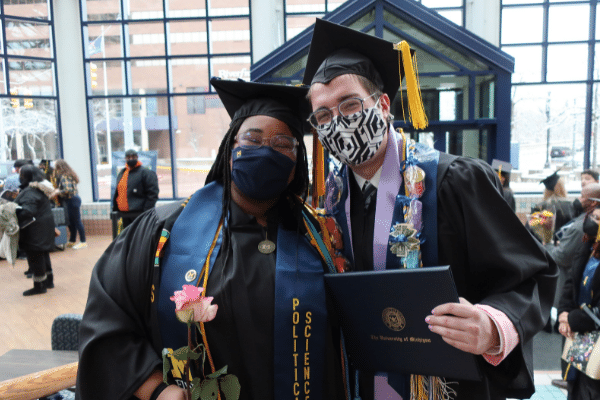 For Samantha Smith (Bachelor of Science in Nursing '21), commencement was an opportunity to reflect on finding her purpose, and the support she found along the way.
"I have had amazing professors that have helped me find who I am as a nurse and as a person. If you would have asked me on the first day where I would be today….I wouldn't have been able to believe that I am now an ICU nurse. I'm ready to fight for those who cannot."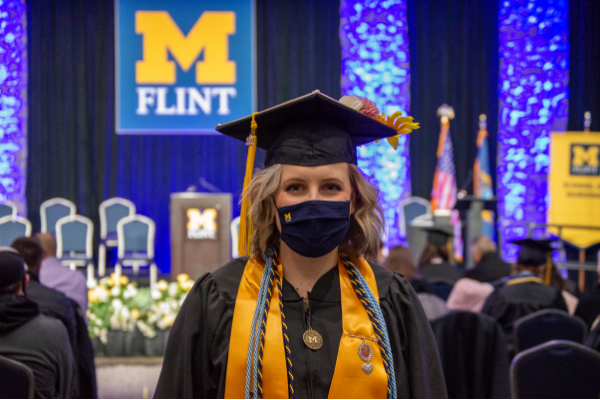 There are many more student stories from commencement. Visit graduates.umflint.edu to browse submissions from 2020 and 2021, and follow UM-Flint on Facebook, Instagram, and Twitter for more.
Video
Each ceremony was live-streamed for those who couldn't attend the day and recorded so the UM-Flint community can experience them again.
Logan McGrady
Logan McGrady is the marketing & digital communication manager for the Office of Marketing and Communication.