UM-Flint's peer mentorship program offers support to more than 250 students in first year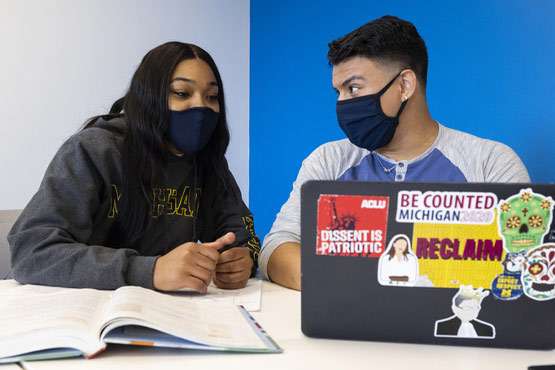 Since the University of Michigan-Flint launched the Success Mentorship Program in January 2021, it has exceeded expectations.
The peer mentorship program has 87 student mentors and 255 mentees, which surpassed the university's goal of matching 250 pairs.
"One of our main goals is to ensure that new students at UM-Flint are supported every step of the way throughout their first year, as we know that can be the most challenging," said Diamond Wilder, Committed to Excellence and Opportunity, Assistant Program Manager. "We hope to expand the narrative on how we build a culture of mentorship at UM-Flint, empowering students to foster meaningful relationships with their peers. During this first year, our focus is to have a high impact on engagement and intended outcomes, in addition to impacting participating students' greater sense of belonging and persistence at UM-Flint."
Mentees can expect to build effective communication and interpersonal skills, learn how to navigate challenges as a new student, gain access to a supportive network of peers and mentors, find meaningful social outlets, become engaged on campus, and gain access to campus support services. Mentors will develop leadership and management qualities, improve communication and interpersonal skills, and share and reflect attributes needed for academic and professional success.
When students register in the program, they take a survey and are matched with each other based on shared interests such as academic major, hobbies, career outlook, and personal background.
Annie Babiasz, a first-year student studying secondary English education, joined the program as a mentee to get involved at UM-Flint.
"Everyone's first piece of advice is to get involved at college, but I wasn't quite sure where to start," she said. "Having a mentor helped me to familiarize myself with the opportunities presented at UM-Flint and I was able to bounce ideas off of her on what I wanted to join and be a part of."
Babiasz said she's enjoyed her experience so far and recommends the Success Mentorship Program to other first-year students. Her mentor is in the same degree program, which allows Babiasz to ask about specific classes, study techniques, and relationship building with professors and peers.
"I am extremely grateful for the opportunities this program has presented to me and I know for a fact that participating in this program has helped me to get more involved and get the most out of my college experience," she said.
Zoe Lightbody, a senior psychology major, chose to serve as a mentor because she knows starting college or transferring to a new one can be difficult.
"Having someone you know at the university who can support you in your academic career can make such a big difference and having someone you know with the same major makes things a lot easier," she said.
She is mentoring six students and said she'd highly recommend the program to any student coming to UM-Flint.
"My experience so far has been great and it has been so amazing getting to know them and seeing how much they've grown over the course of the semester," Lightbody said.
Visit the Success Mentorship Program website to register as a mentor or mentee.
Lindsay Knake
Lindsay Knake is the Communications Coordinator for the UM-Flint Division of Student Affairs. Contact her with any questions, comments, or ideas about the DSA newsletter, social media, events, and communications.