Support groups help UM-Flint students with mental health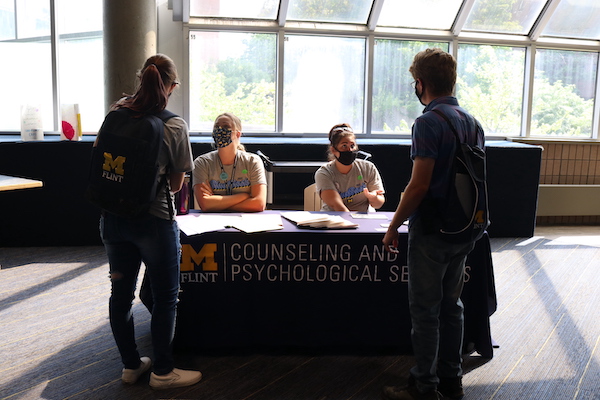 University of Michigan-Flint Counseling and Psychological Services (CAPS) is offering two support groups and monthly events on various topics to help students with their mental health.
"Support groups are designed to facilitate peer-to-peer interactions and build a network of support amongst students," said Counselor Kayla Bueby. "Support groups help to increase students' sense of connectedness to the university and other students, bolstering their social support network that they can then fall back on in difficult times."
Counselor Johnny Linn offers a weekly Living With Depression and Anxiety Support Group at 1 p.m. on Wednesdays via Zoom. The group allows students who have depression and anxiety to help each other through peer support, and Linn also gives educational information each week to help students and foster discussion. At support group meetings, he's talked about definitions and symptoms of depression and anxiety, and he will discuss strategies for managing mental illnesses.
Another support group is COVID-19 Transitions, which offers students a safe and confidential space to process their emotional and mental well-being as a result of the ever-changing developments of the pandemic, Bueby said. While she facilitates the conversation, students determine the topic based on their needs.
The support groups are available to all UM-Flint students regardless if they are seeing a CAPS counselor.
CAPS counselors also are offering monthly presentations about grief, substance use prevention, and depression and anxiety. Students can find all CAPS offerings at UM-Flint Events.
If students are interested in a particular subject for a workshop or support group, they can let the CAPS team know.
"Taking care of your mental health is just as important as taking care of your physical health," Bueby said. "In the classroom, mental health concerns that go unaddressed can contribute to increased attention and focus difficulties, lower motivation, and increased procrastination, all of which make it significantly harder to learn and retain information that is being taught. Taking care of mental health concerns, whether it be independently through self-management strategies or with the support of a counselor, sets students up for success both inside and outside of the classroom."
UM-Flint is committed to supporting student health and well-being. Students can find resources to support their mental, physical, and emotional health here, and review the university's digital care package.
To make an appointment with a CAPS counselor, contact the office at (810) 762-3456 or visit 264 University Center.
Lindsay Knake
Lindsay Knake is the Communications Coordinator for the UM-Flint Division of Student Affairs. Contact her with any questions, comments, or ideas about the DSA newsletter, social media, events, and communications.