UM-Flint Thompson Library launches Archiving the Pandemic and Protest Project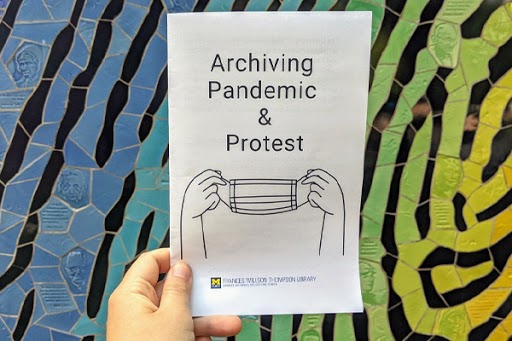 The University of Michigan-Flint Thompson Library is launching the Archiving the Pandemic and Protest Project to collect personal experiences of the Flint community during the COVID-19 pandemic and the politics and protests of 2020-2021. The responses will be archived at the Genesee Historical Collections Center at UM-Flint and later digitized, translated, and made accessible to researchers and the public. This project is funded through UM-Flint's DEI Initiative Grant program.
Flint residents and UM-Flint students, faculty, and staff can help preserve the history of the community by responding to prompts in a distributed zine. Responses will be accepted in both written and oral formats.
Archivists are also interested in the following mediums for submissions:
Written materials, like journals, diaries, and blogs.
Audio or video recordings.
Photographs, art, and creative work about the pandemic or protests.
Signs, banners, and materials created specifically for protests or rallies.
According to UM-Flint archivist Colleen A. Marquis, the project is important when documenting the COVID-19 pandemic.
"Written journals are some of the most important primary sources used in historical research today," Marquis said. "Our own archive holds dozens of journals and diaries from regular citizens that provide important glimpses into Flint's past. It's a chance to become a permanent part of Flint history and leave your thoughts and experiences for the future."
Archiving the Pandemic and Protest Project sets itself apart from other archives and museums, where heavily digital collection methods often exclude certain populations. Archiving the Pandemic and Protest Project will be available in multiple languages, including English, Spanish, Arabic, and Chinese. The project also entails a combination of written, oral, and digital submission opportunities.
Blank copies of the zine and drop boxes to collect submissions can be found at community centers around Flint.
For more information on where to find drop boxes and to submit a zine online, visit go.umflint.edu/zine. If you have any questions, comments, or concerns please contact archivist Colleen A. Marquis at camarqui@umich.edu or call (810) 762-3402.
Contact University Communications & Marketing with comments, questions, or story ideas.