"Going All the Way to the Top": Samantha Hunsinger's Journey as a UM-Flint Mechanical Engineering Student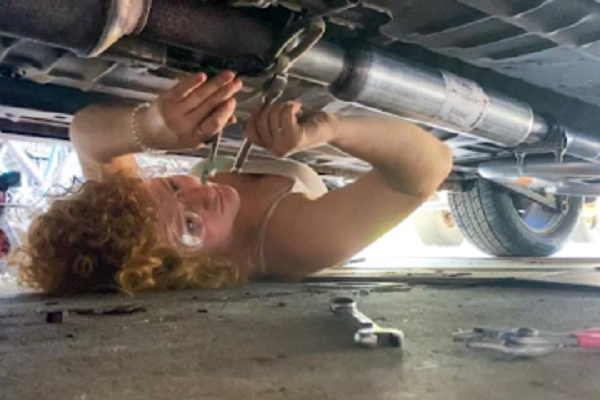 At age 4, Samantha Hunsinger rode beside her Grampie in his Cessna 152 airplane and fell in love with aircraft, rockets, space, and mechanics. Now, Hunsinger is a mechanical engineering student at the University of Michigan-Flint, making these passions a reality.
"I am always wanting to learn about the universe," Hunsinger said. "Engineering just seemed so perfect to combine that all together."
At the University of Michigan-Flint, Hunsinger has applied her passion for aerospace as a member of the American Society For Mechanical Engineers (ASME), a student organization. ASME promotes the art, science and practice of multidisciplinary engineering and allied sciences around the globe. According to Hunsinger, the student chapter conducts work that is equivalent to "what engineers do in the field."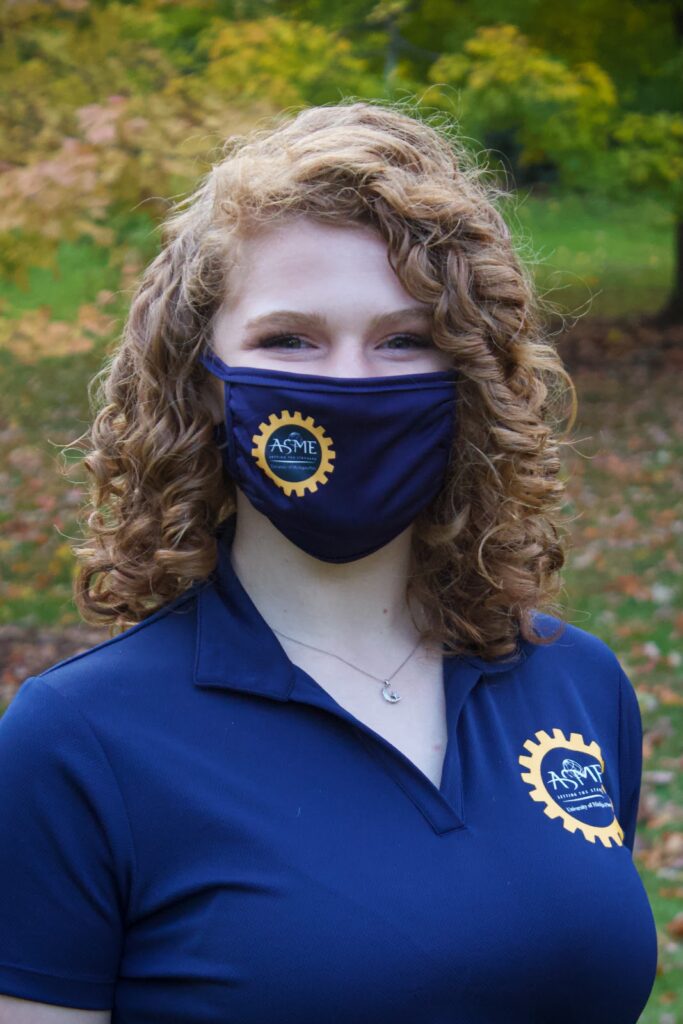 Hunsinger has held an executive board position as ASME's Public Relations Officer for 3 years. As the PR Officer, Hunsinger's main focus is marketing the ASME chapter to both the university and the community, managing its social media presence, and reaching out to donors.
"We try to show people how important engineering is and how it affects everybody's daily lives," Hunsinger said. "Engineers create the houses and buildings you're in, the cars you drive to work every day, and things as simple as the chairs you sit in. It is so impactful."
Hunsinger has worked with ASME to prepare for the annual ASME Engineering Festival (or E-Fest), which is an "event for engineering students that includes design competitions, career development workshops, access to thought leaders and innovators in various engineering fields, and networking opportunities."
Currently, the UM-Flint ASME chapter has focused on updating and perfecting the design process of their existing drone for the competition, which won second place nationally in ASME's IAM3D Challenge last year. The team adapted to the COVID-19 pandemic by meeting via Zoom and collaborating simultaneously on Google Docs. In preparation for the competition, ASME recently submitted a 60-page design report, design video, and team video where they highlighted UM-Flint and their favorite parts of the drone.
Hunsinger has also adapted to COVID-19 by joining General Motors' pandemic response, and using engineering to help combat the COVID-19 pandemic. From June 2020 to February 2021, Hunsinger worked with General Motors in Warren, Michigan to help produce CDC approved face masks, first as a Quality Inspector, before being shortly promoted to Production Supervisor.
"Every mask that was produced, I was in charge of inspecting to make sure that everything was in tip top shape and met CDC guidelines. Then it was sanitized, and sent off," Hunsinger said. "Even though it wasn't necessarily hands-on engineering, I still applied a lot of my engineering knowledge every day. It was a lot of tool work, management, and problem solving."
According to Hunsinger, working on the project was a full-circle experience. Masks that Hunsinger helped manufacture were sent off to local hospitals, various schools, and other organizations, including FIRST Robotics. As a FIRST Robotics alumni, Hunsinger was an involved member of her high school team, "House of Cards" 3534 at Davison High School. "It was really cool to give back to where I came from," Hunsinger said.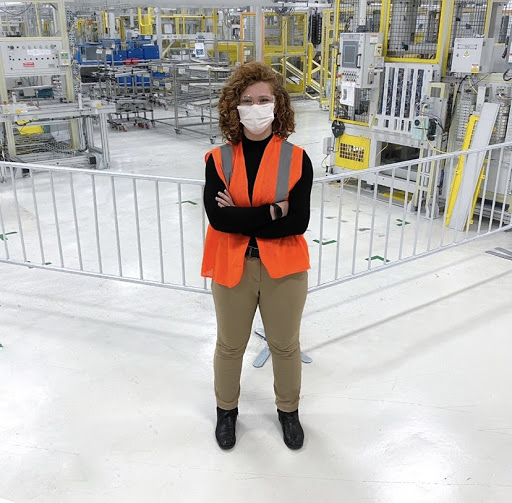 As a UM-Flint student in the STEM field, Hunsinger credits the small class sizes at UM-Flint and the individual interaction between peers and students with making her education great. The recent Murchie Science Building expansion is another plus, which has left Hunsinger "speechless" with excitement.
"There's labs designated to each class and the new machine shop is insane. It blows me away." Hunsinger said. "Chancellor Dutta, being a former engineering professor, has a dedication to building STEM here. It is wonderful and definitely well-needed."
Adding to her immersion in mechanical engineering, Hunsinger has always enjoyed the independent aspect of STEM knowledge, taking a hands-on approach to her own car.
"Anytime I need an oil change [in my car], I do it. If the exhaust goes out, I'll change it. If the brakes go bad, I change them." Hunsinger said. "For Christmas, I asked for tools. I was like, 'I need some socket wrenches!'"
Outside of STEM, Hunsinger is involved with artistic activities, including the Dance program at UM-Flint (having danced since she was young), photography, painting, drawing and crafting. While seemingly different from mechanical engineering, Hunsinger said that these passions correlate directly with her career path, which takes crafting to "the next level."
"With engineering, I have the ability to use my passions, creativity, and more of my own skills to better the world," Hunsinger said.
A self-proclaimed "space nerd," Hunsinger looks up to astronauts such as Christina Koch, and women in STEM who "go all the way to the top." For Samantha Hunsinger, who will graduate in 2022 and hopes to someday go into the aerospace field, the only way is up.
To learn more STEM at UM-Flint and the new College of Innovation & Technology, be sure to attend UM-Flint's STEM Virtual Open House next Tuesday, March 23. RSVP today at http://events.umflint.edu/undergraduate…/events/1234.
Contact University Communications & Marketing with comments, questions, or story ideas.