Maize & Blue Distinguished Scholars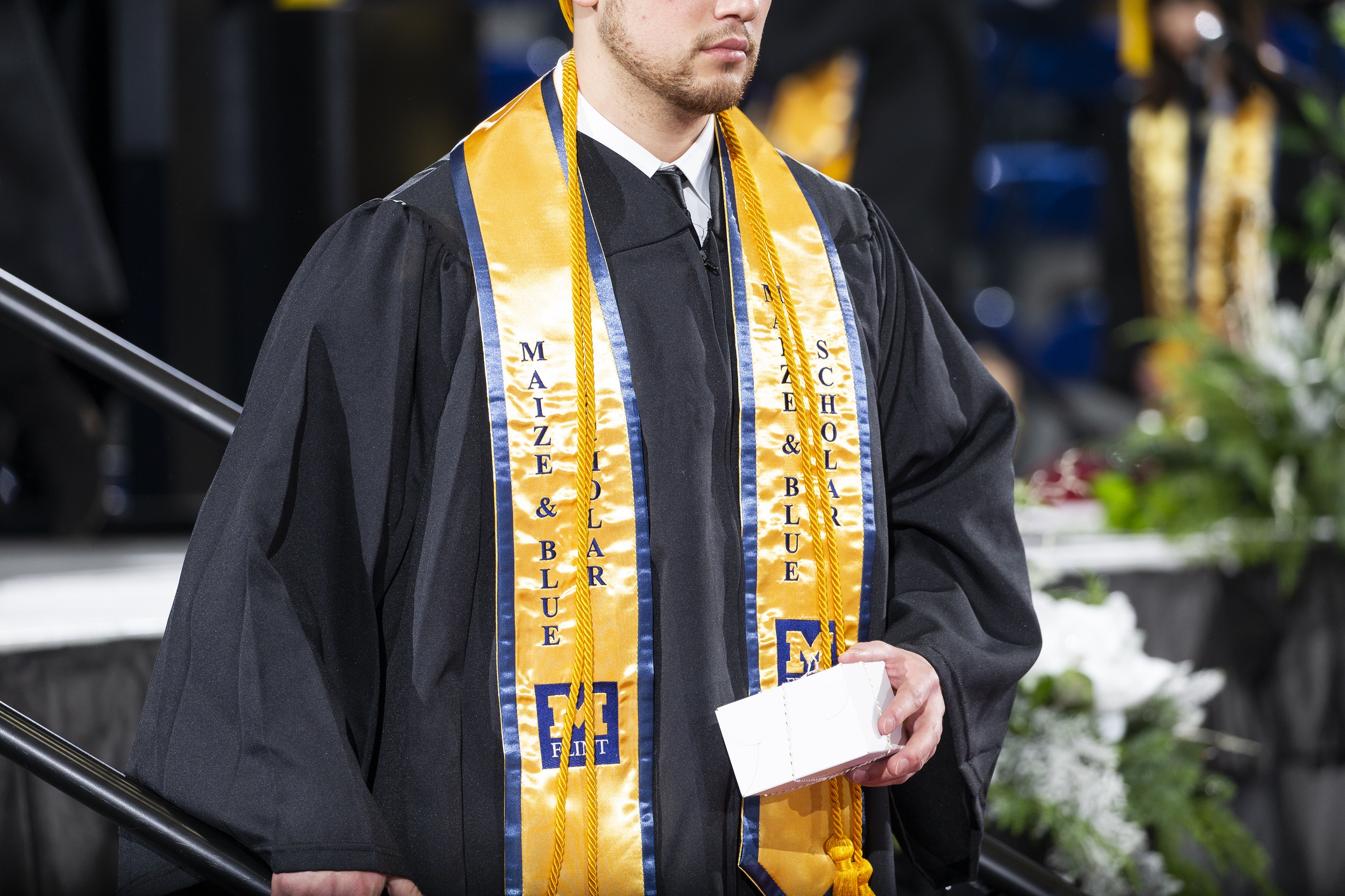 The Maize and Blue Distinguished Scholar Award is the highest academic award bestowed upon undergraduates of the University of Michigan-Flint. Many of the students selected to receive this honor shared a bit about themselves and their future plans after graduation from UM-Flint.
Emilee P. Anderson is receiving her bachelor of science in elementary education, and is planning to continue to be a substitute teacher in the Flushing School District. Emilee believes that time management is the key to be successful at UM-Flint, and shares this advice, "Great things never came from comfort zones."
Erin N. Boensch earned a Bachelor of Science in Biology. She intends to continue working as a behavior technician to assist young children with developmental disabilities. In addition, she will attend graduate school to get a degree as a physician assistant. Erin also plans to ride horses in her spare time.
Jennifer L. Godlew is receiving her Bachelor of Science in Nursing. During her time at UM-Flint, Jennifer volunteered at the Genesee County Free Medical Clinic. She will be on the frontlines of the ongoing pandemic as a registered nurse at Beaumont Royal Oak. Jennifer shares this quote from Ralph Waldo Emerson, "What lies behind us and what lies before us are tiny matters compared to what lies within us."
Georgia T. Pasqui earned two Bachelor of Business Administration degrees: one in Entrepreneurship & Innovation and the other in International Business. She is going to take a break to spend time in Italy with family, then to work as a management consultant. Georgia was very involved on campus, and credits her faculty as being mentors to her.
Laura A. Quasarano is receiving a Bachelor of Science in Elementary Education. Laura has offered a Bookmobile service free of charge to the students and families of Woodland Park Academy, and she will continue to co-teach 8th grade English at that school. Laura will also remain involved at UM-Flint, continuing her research with the Provider Empowerment Program under The Urban Institute for Racial, Economic, & Environmental Justice.
Clarissa L. Richardson earned a Bachelor of Science in Nursing. After graduation, she will continue her work as a registered nurse at Michigan Medicine. In fall 2021, she plans to return to UM-Flint to pursue a Doctor of Nursing Practice degree in Acute Care Gerontology.
Amanda K. Seney is completing her undergraduate experience by earning two Bachelor of Arts degrees, one in Anthropology and the other is in English with Writing Specialization. Amanda is planning to attend graduate school, and shares this advice with other UM-Flint students: "What you take away from your college experience is up to you; take some time to figure out what you want from it."
Shelby J. Smith is receiving a bachelor of science in Elementary Education. Shelby believes she was born to be a teacher. She is actively pursuing a career as an educator in the primary grades while also continuing her education by working towards a masters degree in special education.
Alexis E. Snell is graduating with a Bachelor of Business Administration degree from the School of Management. She is planning to continue working full time, and credits UM-Flint faculty, staff, and her fellow students with helping her to succeed. She is also grateful to her family who she says made many sacrifices so she could earn her degree.
Alysia M. Trevino earned a Bachelor of Arts in Anthropology. Alysia is planning to travel and teach before attending graduate school for anthropology. She intends to eventually pursue working with the Latinx community, specifically around issues of immigration. Alysia credits UM-Flint faculty with being supportive and instilling her with this belief: "We have the ability to do good and create change. This is something that I have learned concretely in my time at UM-Flint– that we can do good for others, ourselves, and our communities".
Three other students are also receiving the Maize and Blue Award, and they are:
Jerry Vargo Bachelor of Music Education
Dipesh Baral is graduating with a Bachelor of Science in Mathematics.
Dustin L. Blom Bachelor of Science in Nursing
Contact University Communications & Marketing with comments, questions, or story ideas.