Former UM-Flint Mpowering My Success scholar pens book about overcoming difficulty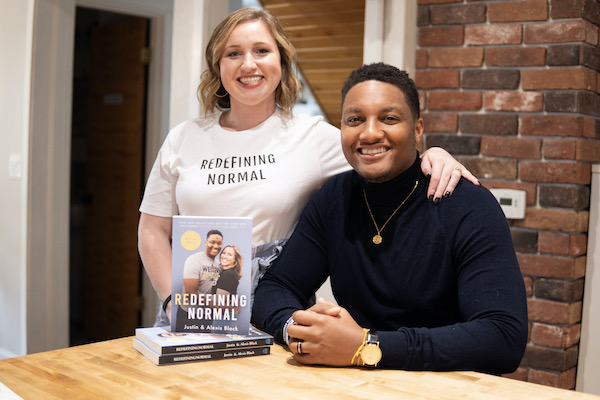 Alexis Lenderman-Black, a former University of Michigan-Flint student, has written a book with her husband, Justin Black, about succeeding from their youths as foster children.
"Redefining Normal: How Two Foster Kids Beat The Odds and Discovered Healing, Happiness and Love" is a new book that shares their respective stories dealing with abuse and assault and breaking the generational cycle to find happiness.
Lenderman-Black arrived at UM-Flint as an MPowering My Success student, the University's program that supports students who were in the foster care system. She answers questions about her time at UM-Flint and her new book:
Q: Why did you choose UM-Flint?
A: I chose UM-Flint because it gave me the flexibility to be a student while working two jobs. Also, because I could be closer to family since I moved away during high school.
Q: What was your major?
A: I started as an accounting major because I felt that this degree was very reliable and stable. However, after doing a few internships in Flint and being exposed to business owners, I discovered my passion for entrepreneurship and creating social impact businesses.
Q: How did MPowering My Success shape your time at the University?
A: MPowering My Success provided me with the support I needed to navigate the college processes of financial aid, applying for classes as well as deal with personal struggles that I was dealing with on top of classes.
Q: Since graduating, what have you done in terms of both education and career?
A: Since graduating college, I now operate three companies that I co-founded: The Scholarship Expert, ROSE Empowerment Group and Redefining Normal. Furthermore, I've co-authored a book called Redefining Normal: How Two Foster Kids Beat The Odds and Discovered Healing, Happiness and Love with my husband before getting married in August. We both are committed to serving others and being a positive example.
Q: Tell me about this book: where did the idea come from, what is it about?
A: My husband and I decided to write this book because we both grew up in foster care and have gone through our fair share of trauma and wanted to make sure that. we are being intentional on healing and breaking generational cycles. We wrote this book in alternating narratives because we wanted to show people that we had to go through individual journeys of healing and self-discovery before we could come together and form a healthy relationship. We tell people that this book isn't a relationship book, it's more of an identity book to help others to reflect on their identity, who they are, and what their identity is rooted in. Ultimately, this book is a conversation starter for all of the topics we cover such as healthy relationships, boundaries, mental health and so much more.
Lindsay Knake
Lindsay Knake is the Communications Coordinator for the UM-Flint Division of Student Affairs. Contact her with any questions, comments, or ideas about the DSA newsletter, social media, events, and communications.