UM-Flint professor to lead the new College of Innovation & Technology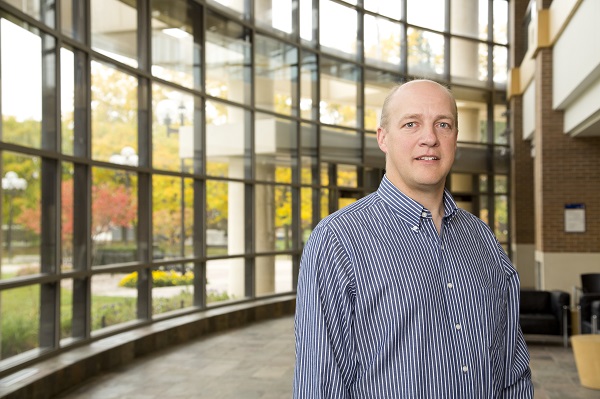 A University of Michigan-Flint physics professor will take the helm of the new College of Innovation and Technology that is being established on the Flint campus.
Christopher A. Pearson was approved as the inaugural dean of the college at the Oct. 22 Board of Regents meeting. Pearson begins his duties Nov. 1.
The CIT, which was approved by regents Sept.17, is designed to fill a gap in the technology work force that exists between vocational technical training offered by community colleges and the science-based bachelor's degree programs in engineering and computer science. It will offer four-year bachelor's degrees in technology and prepare graduates for employment in automotive, manufacturing, artificial intelligence, health care, aerospace, cybersecurity and other sectors of the economy.
Pearson currently is the associate dean of the College of Arts and Sciences, a position he has held since 2015. A highly regarded scholar, Pearson has published in top peer-reviewed journals and conference proceedings, and given numerous professional presentations.
Sonja Feist-Price, UM-Flint provost and vice chancellor for academic affairs, said Pearson will be working to set up the administrative and academic structure of the new college in a short period of time.
"The CIT is opening in fall of 2021, and our incoming dean is ready to lead," Feist-Price said. "Pearson is a strong, collaborative leader who will establish a clear mission, vision, curriculum and academic programming that will attract motivated students and top scholars to our new college. It is an aggressive agenda, and I have every confidence that he will succeed."
Pearson received his Ph.D. from the University of Minnesota in 1995, and his B.A. from Hamline University, St. Paul, Minnesota, in 1989. After two years as a postdoctoral researcher at the University of California-Davis, he joined UM-Flint in 1998 as an assistant professor of physics. He was promoted to associate professor, with tenure, in 2004, and to professor in 2011.
Contact University Communications & Marketing with comments, questions, or story ideas.