UM-Flint launches pilot telehealth services on campus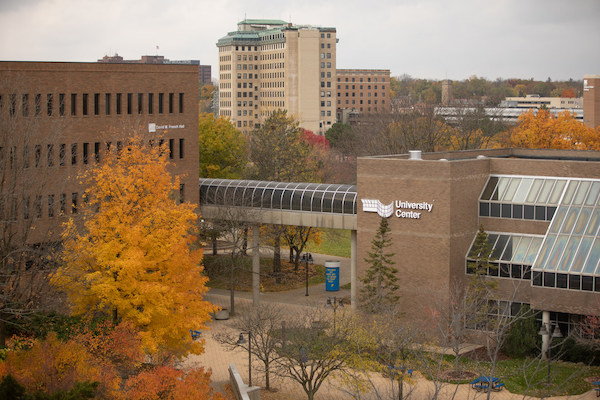 The University of Michigan-Flint has launched a pilot program this semester to offer telehealth services to students living on campus.
The telehealth services, available through U-M University Health Service (UHS), include episodic care, nurse advice, medication renewals, nutrition counseling, minor illness/injury care, and sexual health (including contraception and consultation).
"Health and wellness have always been important aspects of a holistic approach to institutional support for students' well-being," said Dr. Christopher Giordano, Division of Student Affairs vice chancellor. "These concepts have taken on much greater meaning as we navigate the challenges of college student health during a global pandemic. Access to these services will help to ensure our residential students remain healthy and safe throughout the fall semester."
Students living on campus also can receive referral-based specialty services after a primary care consultation, and UHS providers will refer students to local healthcare providers if additional follow up is needed. For urgent care, UM-Flint students can visit Hurley Medical Center or another local health facility.
UHS physicians can order non-COVID labs through the Quest portal, and students can go to those labs for the tests. Quest has 20 locations within 25 miles of UM-Flint's campus, including one four miles away in Wal-Mart on Corunna Road. Laboratory, medications, and referrals are the financial responsibility of the student.
For any COVID-related tests, students should seek out community resources in Genesee County.
To use telehealth services:
Schedule an appointment – Call (734) 764-8320 to discuss options and identify as a UM-Flint student
Follow standard intake procedures (includes obtaining patient consent and maintaining electronic patient records)
Call for Nurse Advice by Phone, day or night at (734) 764-8320. Note: when UHS is closed, nurses cannot give test results, renew prescriptions, or make or cancel appointments.
UM-Flint will evaluate the pilot program following the Fall 2020 semester. This fall's pilot program will help the University determine ongoing needs and support on a permanent basis.
"It's very important that we hear directly from our students to determine their ongoing health needs as we consider scaling these services," Giordano said. "Our partnership with Student Government is a crucial component in surveying our students and determining next steps for telehealth services at UM-Flint."
Student Government will share a survey with students this fall.
For more information about the telehealth services, visit UHS Telehealth Services. In case of a medical emergency, contact UM-Flint Department of Public Safety at 911 or (810) 762-3333.
UM-Flint provides mental health support and counseling to all UM-Flint students through Counseling and Psychology Services (CAPS). To make an appointment, call (810) 762-3456.
For COVID-related resources and reporting, please contact the Dean of Students Office at (810) 762-5728.
Lindsay Knake
Lindsay Knake is the Communications Coordinator for the UM-Flint Division of Student Affairs. Contact her with any questions, comments, or ideas about the DSA newsletter, social media, events, and communications.